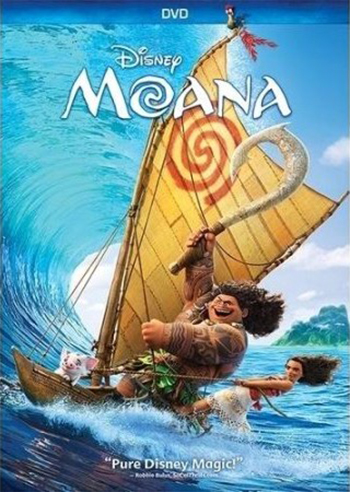 Moana – (Sony DADC) Rs. 599/-
"….See the light where the sky meets the sea, It calls me, And no one knows how far it goes, If the wind in my sail on the sea stays behind me, One day I'll know……." Just like 'Frozen" had an infectious song, Alessia Cara performing How Far I'll Go in 'Moana' is unforgettable. Alessia has such a natural look, she doesn't use much makeup and her angelic voice just completes the amazing person she is, the same going for our little heroine Moana (Auli'i Cravalho).
Compared to your average Disney princesses, Moana longs for the sea, to go beyond the reefs, where the high waves can kill you. Her father an island chieftain (Temuera Morrison) reprimands her for her outlandish ideas, but Moana who has heard from her grandmother the background mythology and history of her island, wants to find the reason behind the sudden destruction of vegetation and fruits on her island by the foul play of the mischievous demigod, Maui (Dwayne Johnson) who has stolen the heart from her people. If Moana fails, her island will die along with everyone she knows and loves. With only a stupid chicken for company, no sailing experience, she braves the open ocean in an attempt to save her people and her home from decay and destruction. After a long voyage, Moana finds Maui on another island. He jokes about her, but finally succumbs to her whims and fancies. The shape shifting demigod who argues with his living tattoos are a treat to watch. The pair joins forces to tackle pygmy pirates, a lava monster and crab monsters, with one goal to restore the beauty of her island.
Visually, 'Moana' is like taking a vacation to the South Pacific. Rich in detail and fine textures, and musically fulfilling, the catchy musical has a nice balance of emotion, character and story. Don't miss out on the Bonus Features - Inner Workings Short Film and the Music Video for "How Far I'll Go".
Rating: ****
Reviewed By Verus Ferreira