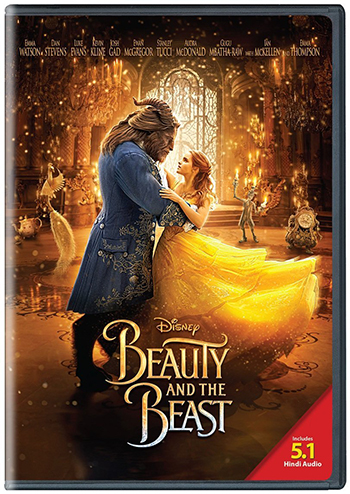 Beauty and the Beast – (Sony DADC) Rs. 599/-
Cast: Emma Watson, Dan Stevens, Luke Evans, Kevin Kline, Josh Grad, Ewan McGregor, Emma Thompson.
Directed By: Bill Condon

Tale as old as time, True as it can be, Barely even friends, Then somebody bends, Unexpectedly, Just a little change, Small to say the least, Both a little scared, Neither one prepared…. go the lyrics of the very famous title track of Beauty and the Beast, a song that has been played and replayed by many fans who love the movie. Originally sung for the animated film in 1991 by Celine Dion and Peabo Bryson, the 2017 version is sung by Emma Thompson who plays Mrs. Potts during the film. There's also a duet cover version with Ariana Grande and John Legend of this wonderful ballad that comes on during the end credits.

As for the plot, everyone who loves Disney would know it by now. For those who really don't know this story, our film opens upon a beautiful castle where a self centre and judgmental prince, casts away a woman from his castle because she was ugly, little knowing that she was a sorceress in disguise. She places him under a spell, which turns him into a grotesque beast, a spell which can only be broken when he begins to love someone for who they truly are.

Now years later, we have Belle (Emma Watson) a village girl living with her widowed father Maurice (Kevin Kline). One day on his return after an outing to the market, he accidently trespasses onto a property owned by the beast (Dan Stevens). Maurice is taken prisoner. When Bell learns of it she pleads with the beast to keep her instead of her father. With the help of the beast's staff that consists of talking clocks, candlesticks and teacups, a friendship begins to bloom between Belle and the beast. Its fun, until Gaston the village hero who is in love with Belle, threatens Belle's father that he'll kill the beast and also his daughter if he doesn't get her hand in marriage.

The film is very enjoyable for people of all ages, with several catchy songs to sing along to if you are in the right mood. It's a pleasure to watch live actors playing the role of Belle and the Beast. This probably is a dream come true for many fans of the film. What is nice is how the love story develops, the brilliant music score and of course the final transformation of the beast.

Disney films are mainly aimed at children with a moral that teaches them life lessons, and this film teaches them 'Never judge a book by its cover', which actually means not to judge someone by the way someone looks or acts.
Rating:*****
By Verus Ferreira