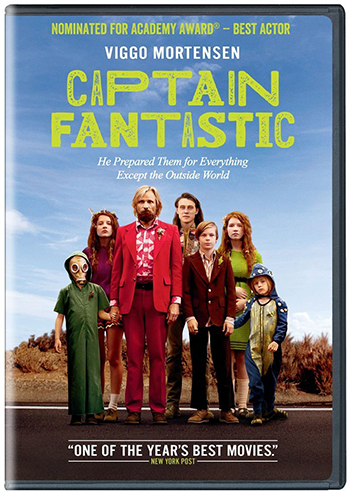 Captain Fantastic – (Sony DADC) Rs. 599/-
Starring Viggo Mortensen, Frank Langella, George MacKay, Samantha Isler, Annalise Basso, Nicholas Hamilton, Shree Crooks, Charlie Shotwell, Kathryn Hahn and Steve Zahn.
Directed by Matt Ross

For the last 15 years, the Cash clan has lived an idyllic, isolated life deep in the jungles of New Mexico. Ben has not sent his six children to school and instead home schools them from physics to reading them stories and telling them about the bird and the bees. The children don't celebrate their birthdays and Christmas, rather they celebrate the birth of Noam Chomsky. Their only contact to the outside world is a trip to the nearby store to pick up a few groceries and back to the jungle.
Their mother has left the family and lives with her parents back home. Months later, the children learn that their mother is no more. They want their father to take them to her funeral and carry out the rituals as per their mothers wish. Ben flatly refuses to this, scared that this might open up his children to a world they have never seen before. Ben's son has already had a taste of the outside world, with offers from University coming in for him. But he is bound by his father's desire to stay in a jungle and live like an ape-man. With constant bickering from the kids, Ben finally gives in and the family takes a road trip on their bus named Steve, bumping into alien encounters with supermarkets, banks and Coca Cola.
At Ben's father-in-law place, it's a blame game. Jack (Frank Langella) sees his grandchildren's upbringing as child abuse with Ben resembling something less a father, and blames Ben for his daughter's death.
It's time for the children to attend the funeral and make peace with their mother. After the funeral as per Christian rites, the children do something that no one would have dared to do, but do they manage to pull it off or does their father come between them.
Don't miss the Guns N' Roses song Sweet Child O Mine performed by the kids. Viggo Mortensen as Ben gives off a wonderful performance.
Rating: ****
Reviewed By Verus Ferreira