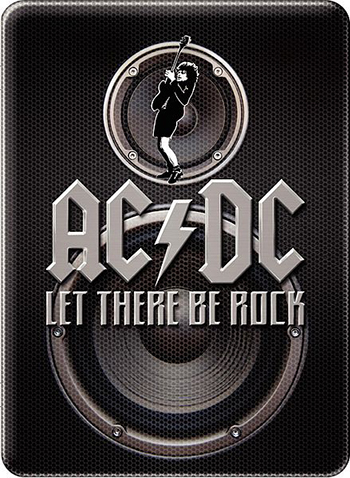 AC/DC - Let There Be Rock – (Reliance Home Video) Rs. 599/-
Produced and Directed by: Eric Dionysius and Eric Mistler
AC/DC's 1980 concert film is a must for any rock music fan. Now for the first time ever on DVD, 'AC/DC – Let There Be Rock' released on June 7, 2011 to commemorate the 30th Anniversary of the theatrical release, the concert film showcases a band many have grown up listening to. This legendary concert film showcases the power of the band The concert movie, which contains 13 live songs, was filmed at the Pavillion De Paris in December 1979 in Paris during the legendary rock band's 'Highway To Hell' tour and features their original singer Bon Scott, who died a mere two months later at the age of 33 from alcohol poisoning.
The Australian heavy metal band's DVD is packed with powerful songs that the quintet bring to vicious rockers like 'Whole Lotta Rosie', High Voltage', 'Highway to Hell' and 'Let There Be Rock'. Lead guitarist Angus Young is the focus here and takes center stage with his energetic antics and frenetic solos, while the rest of the band make the most of the songs that have become rock anthems today. Interview segments and humorous backstage footage show another side to the headbangers, especially their flamboyant lead singer Bon Scott.
The film contains interview segments and humorous backstage footage of these hard rock pioneers, especially those last interviews with Scott. This DVD release will be a great opportunity for fans of all ages to relive one of the greatest performances by one of the most decorated rock bands in history.
Special features include:

* Loud, Locked & Loaded: The Rites of Rock: Seasoned rockers, actors and journalists recollect their rite of passage as early witnesses to the raw, bone rattling rock of AC/DC.
* AC/DC: The Bedrock of Riff: No one has mastered the basic DNA of riff rock as successfully as AC/DC. Explore Angus and Malcolm Young's telepathic groove and the four-on-the-floor swing of Mark Rudd.

* Angus Young: A True Guitar Monster: Angus Young's transformation from diminutive schoolboy to raging rock monster electrifies the masses. Find out what makes this time bomb tick.

* Bon Scott: The Pirate of Rock 'n' Roll: Bon Scott was the ringleader of the AC/DC circus, balancing his screaming sexuality with a rakish charm. Get a glimpse into the life of a classic rock 'n' roll pirate.

* AC/DC: A Rock Solid Legacy: From bar band to arena rock, AC/DC stuck to their guns and shot their way to the top. Fellow rockers and journalists chart AC/DC's ascent into the pantheon of rock Gods in rock 'n' roll history.

People interviewed on Featurettes
Rick Allen – Deaf Leppard
Matt Sorum – Guns N' Roses
Jerry Greenberg – Music Executive
Scott Ian – Anthrax
Lemmy- Motorhead
Eddie Trunk – That Metal Show
Billy Corgan – Smashing Pumpkins
Anthony Bozza – AC/DC Author
Susan Masino – AC/DC Author
Georg Dolivo- Rhino Bucket
The Donnas – Rock band
Thund-Her-Struck – AC/DC cover band
Lon Friend – Music Journalist
Pauley Parette – Actress/Musician
Songs
"Live Wire"
"Shot Down in Flames"
"Hell Ain't A Bad Place To Be"
"Sin City"
"Walk All Over You"
"Bad Boy Boogie"
"The Jack"
"Highway To Hell"
"Girls Got Rhythm"
"High Voltage"
"Whole Lotta Rosie"
"Rocker"
"Let There Be Rock"
Rating: ****
Reviewed By Verus Ferreira