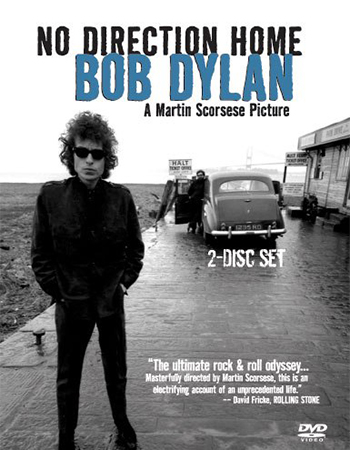 No Direction Home – Bob Dylan (BIG Home Video) 2 Discs Rs. 699/-
Director: Martin Scorsese
Duration: 240 minutes approx with bonus features
The scene is set in the 1950s in Minnesota, US where Robert Allen Zimmerman aka Bob Dylan was born (b. 1941). It's his story…. his coming of age as a singer, songwriter, performer, and star. From his cherubic look and his frequent swagger, Dylan takes on the years from his early days in music especially between 1961-1966 that were inarguably the most artistically fertile. The film does not cover Dylan's entire career; it concentrates on the period between Dylan's arrival in New York in January 1961 and his "retirement" from touring, following his motorcycle accident in July 1966. He takes tips from others: singing styles, chord changes, and rare records. All this he puts to use later. He could only unravel where he came from and where he got to, but not how he got there or where he's going. Only Dylan has any idea of that. As he states in the film. "I was born very far from where I'm supposed to be, so I'm on my way home."
Academy award nominated director Martin Scorsese who had previously worked with Dylan on the band's farewell concert film 'The Last Waltz' (1978), manages to get the near reclusive legend to open up on various facts of his music, from his career as a folk singer to this transition years later into a pop - rock icon. People who watched him started labeling him as a folk singer and there he was singing pop - rock songs, which never went well with his fans.
The biographic documentary sheds light on the intimate details of Dylan's life……..his closeness to Joan Baez, his creation of music on topical situations, his performance at the Newport Folk Festival in 1963 that saw the likes of old and new singers like Johnny Cash, Howlin' Wolf, his duet with Murray Lener and his protest songs at the concert. In addition, the Bob Dylan Archives opens its extensive film, tape, and stills collection for never-before-seen concert and television appearances. There are ample shots of rare LP record sleeves, short performances in black and white of Hank Williams, Muddy Waters, Gene Vincent, Odetta Woody Guthrie, Joan Baez, Pete Seger, The New Lost City Ramblers, Peter Lefarge and a host of others. Its short cuts but really sweet …take a look at the rendition of Good night Irene by The Weavers. To top it all there's Bob Dylan with guitar and mouth organ in place. in his finest nasal sounding in songs like Hey Mr. Tambourine Man, Go Home, House of the Rising Sun, Traitor to his well loved party favorite Blowin' in the wind among many others.
Dylan's poetry which he converted into music spoke of a tragedy of other people's lives. Don't miss the stowaway incident by 2 girls who made off with him in his van just to get a closer glance of the beehive headed singer. Most memorable would also be the concert with Joan Baez and his wonderful vocal power seen in Like a Rolling Stone a song which originally had 50 verses. His press conferences were something journalists (turned fans) looked forward to for his answers were tongue in cheek. There was a lot of opposition when he went into the pop arena.
Within no time, his songs were becoming hits for other people, like the Byrds version of Mr. Tambourine Man. There are comments by band members of the era too, sometimes darn funny and some noteworthy. Watch Dylan's smirks, smiles and laughs. Listen to his ex - girlfriend Suze Rotolo.
It's a very long documentary no doubt, but it's worth the watch. After watching this almost four hour set, a novice on Dylan would be filled with knowledge about a man who was not only a ground breaking, inspirational musician of our time, but a rocker and rebel of his days, only to become one of the greatest and most influential American artists of the 20th century
Lastly not many would know but the title of the film takes its name from a lyric of the Dylan song Like a Rolling Stone, from the album 'Highway 61 Revisited'. A thoroughly enjoyable music DVD.
Rating: ****
Reviewed by Verus Ferreira