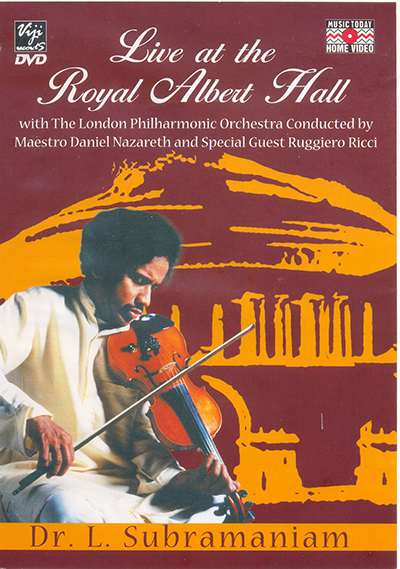 Live at the Royal Albert Hall – Dr. L. Subramaniam – (Music Today) Rs. 350/-
Dr L Subramaniam stated that this live recording was one of the most memorable performances of his life. Not only was it the first time that South Indian classical violin was being presented at the Royal Albert Hall, but it was also a portrayal of the versatility of the violin in different playing styles.
The concert features Dr. L Subramanim in a classical vein with the Madras Percussion Ensemble and also his first orchestral composition – the Double Concerto (Two Violins), with one of the greatest Western classical violinists, Mr. Ruggiero Ricci, along with the fabulous London Philharmonic orchestra conducted by Maestro Daniel Nazareth.
L Subramaniam, who has showcased a new era in violin playing, executed by his very individualistic, brilliant and masterful style, has become a legend in his own time. The most respected and renowned Indian violinist on the international scene, Subramaniam has been hailed by his critics and connoisseurs alike as one of the greatest performers of all times.
The concert is sure to be loved by Indian classical music lovers, who will find the concert appealing not only to the beginner but also the connoisseur. It is also a great companion to the library of a serious music lover.
Rating: ****
Reviewed by Verus Ferreira