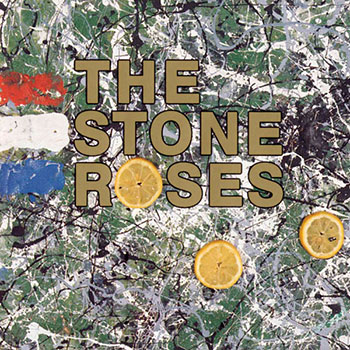 The Stone Roses – The Stone Roses
The hugely popular 90's British band, Oasis borrowed copiously from these four Manchester lads (vocalist Ian Brown, guitarist John Squire, bassist Mani, and drummer Reni), not just musically, but attitudinally.
The Stone Roses, with their defiant swagger and rock-dance fusion music, rescued the ebbing 80's with their refreshing sound mix that was inspired by all things good from the past - Beatles, Hendrix, Byrds & Smiths. And this eponymous debut album will always stand the test of time as one of the finest debuts in the history of popular music.
It begins with a collage of sounds. Forty seconds of bass guitar, followed by lead and then drums come in, post one minute. That's when the album gently explodes. With minimalistic and repetitive lyrics, I Wanna Be Adored is a kind of request to the band's earlier fans from Manchester, for becoming a sell-out to a record label. The next track She Bangs The Drums has become one of the greatest Indie anthem over the years. In fact, the entire album is one of the greatest Indie albums ever. The song was the band's first Top 40 hit, as well. The cascading Waterfall with one of the catchiest hooks will be remembered long after the song is gone. Side 1 ends with the gentle and melodious Bye Bye Badman, wherein Squire does a Johnny Marr (The Smiths) style guitar playing.
Side 2 begins with the 59 seconds Elizabeth My Dear set to the folky traditional tune of Scarborough Fair. On the 4th track Shoot You Down, Squire goes for Hendrix style guitar playing, but the band maintains the melodious pop sound. The closing track I Am The Resurrection, is an 8 minute 12 seconds masterpiece with a 5 minute outro having some mean guitar licks and drumming. A very fine way to finish the gentle explosion.
Much of the richly layered texture of the album can be contributed to the producer John Leicke who had earlier worked on albums like 'All Things Must Pass' (George Harrison), 'Meddle' and 'Wish You Were Here' (Pink Floyd). The cover of the album was created by John Squire himself.
With this album the lads literally gave birth to the now famous Madchester scene, creating a template for Britpop, which bands like Oasis and The Verve successfully took forward. But even if you remove its cultural and musical significance, it's an album with beautiful music. And that's what one needs from a record, right?
Year: 1989 Genre: Madchester, Rock pop, Dance rock Duration: 49:02 Label: Silvertone
Rating: 4.5/5
Reviewed by Meraj Hasan
Meraj Hasan is a Mumbai based communication professional (and an amateur poet/musician) with a passion for listening to music the vinyl way. His 25 year old Technics turntable along with a humble collection of LPs across genres like Classic rock, Classical, Blues and Jazz (amongst others) are his prized possessions.
He can be reached at +91 9833410791 or email: meraj.hasan@gmail.com