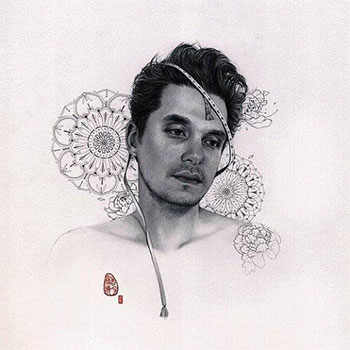 The Search for Everything – John Mayer
John Mayer is some sort of a 'chameleon of music' and a very good one at that. He becomes a pop sensation with some kitschy songs. Then he goes and makes two solid albums influenced by the music of 70's Laurel Canyon scene (born and raised and Paradise Valley), a new territory for him. He teams up with the remaining members of Grateful Dead to form Dead & Company, perhaps an attempt to make the music of Dead accessible for the millennial. He plays at the major blues festivals with giants like Clapton and Buddy Guy. He also performs pure pop with Ed Sheeran. And now, in this last album, 'The Search for Everything', released in April, 2017, he displays a fair share of classy disco/ funk along with some well laid out pop songs.
The LP kicks off with a Marvin Gaye kind of falsetto and then gets into the Motown funk sounds in a playful heartbreak song, Still Feel Like Your Man with lyrics like, 'I still keep your shampoo in my shower, In case you wanna wash your hair'. Love the man's singing in this one. The other two stand-out tracks on side one are the funky Helpless with some sleek guitar playing, and the deep In The Blood with lyrics like, 'How much of my father am I destined to become? Will I dim the lights inside me just to satisfy someone?' The title track is a standard pop-rock song aimed at top of the charts and that's what it did achieve.
The notable tracks on the second side of the LP are the funky (yes, once again) Moving On and Getting Over with a very catchy bridge and Rosie, a slow groove alcoholic's urge to his woman to be taken in when he is drunk. The album ends with a beautiful, whistle sprinkled, totally dreamy love song You're Gonna Live Forever in Me.
While many historically engaged fans have disliked this piece of work, I completely enjoyed it. John Mayer's material, post 'Born & Raised', has become some sort of 'comfort music' for me. Comfort because his lyrics are heartfelt. Comfort because his melodies are warm and simple. Comfort because his singing is earnest. Comfort because his arrangements are precise with very fine ears to the details. Comfort because he treats his music academically, even if he is a music dropout from Berkley.
Next, I am expecting a pure disco/funk or a pure blues album from him. But, I expect a better album cover.
Year: 2017
Genre: Pop / Funk /Rock
Duration: 43:49
Label: Columbia / Sony Music
Rating: ****
Reviewed by Meraj Hasan
Meraj Hasan is a Mumbai based communication professional (and an amateur poet/musician) with a passion for listening to music the vinyl way. His 25 year old Technics turntable along with a humble collection of LPs across genres like Classic rock, Classical, Blues and Jazz (amongst others) are his prized possessions.
He can be reached at +91 9833410791 or email: meraj.hasan@gmail.com