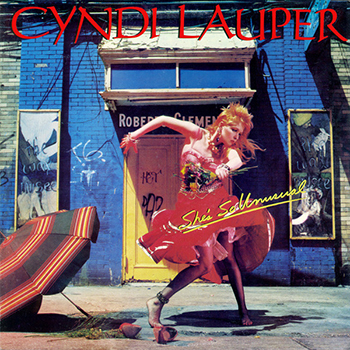 She's so Unusual – Cyndi Lauper (Import)
Going back to the 80s and one album that really rocketed an unknown star to popdom was 'She's so Unusual'. The midget girl with a powerful voice was totally new to the music world when she released her debut album, and what an album it came to be.
Girls Just wanna have fun was the top track on this 10 track album and was a replay at every party. The fab opening guitar riff, backed by Lauper's high pitched voice kicks off well. Second on Side A, it matched up to songs like the very moving Time After Time which appears last. In her songs, Lauper spoke of everyday things that came to her mind. When she spoke of Money Changes Everything, the album opener, she talked about how the colored paper could change the hearts of many people who seek it.
Flipping over you had She Bop, a funky piece that would pull you on the dance floor. In the same vein you had the racy Witness. The other highlight on the album was definitely All Through the Night, a powerful love ballad that strikes you like a bolt of lightning.
At the 1995 Grammy Awards, Lauper won two Grammies, for Best New Artist and Best Album Package. The front cover of She's So Unusual album was photographed on the Henderson Walk in Coney Island, New York in the summer of 1983. Lauper is in fishnet stockings, and sports a red prom kind of dress and holding a bouquet of flowers during the shoot. She has a bit of makeup, jewellery on her ears, arms and neck. For reasons best known to her, she is barefoot with her red high heels lying around her.
The album is a pop classic for sure and even if you listen to it now, it still has that freshness, just like the raw voice of Lauper who gave us such a fantastic first album.
Rating: *****
Reviewed By Verus Ferreira