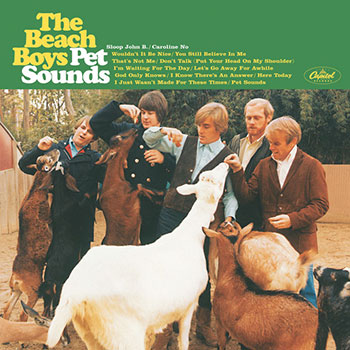 Pet Sounds – The Beach Boys
Ask any music lover or critic about their Top 10 bands, and the name The Beach Boys is highly unlikely to figure in that list. But ask the same music lover or critic about the Top 10 albums, and 'Pet Sounds' will certainly appear in it. This is probably because the album is largely the brainchild of Brian Wilson, co-founder of the band who wrote, arranged and produced the entire material. The other members of the band of course helped with the trademark beautiful harmonies, with reluctance. Reluctance because the lush, symphonic pieces coming from Wilson were far removed from the good-time surf songs the band was known for.
After stopping touring with the band because of anxiety issues, Wilson set out to make the greatest rock album ever made and he accomplished the same by mixing traditional rock sounds with layers of vocal harmonies and unconventional instruments (from rock standards) like harpsichords, flutes, electro-theremin, bicycle bells, trains, coca cola cans and even barking dogs.
Lyrically, the songs are introspective and takes on the various aspects of love (barring the traditional Sloop John B, the track that closes the first side) starting with the thrilling youthful opener, Wouldn't It Be Nice. The other remarkable tracks are Don't Talk (Put Your Head On My Shoulder), God Only Knows, I Know There Is An Answer and the heartbreakingly sad last track Caroline No with lyrics like:
Where did your long hair go
Where is the girl I used to know
How could you lose that happy glow
Oh, Caroline No
Who took that look away
I remember how you used to say
You'd never change, but that's not true
Oh, Caroline you
Often recognized as one of the first concept albums in rock music, 'Pet Sounds' released in 1966 is a cornerstone of production introducing non-standard harmonies and timbres and incorporating elements of pop, jazz, exotica, classical and the avant-garde. It elevated rock music from just being there for dancing to something made for pure listening, thus taking the genre towards art. The album also paved way for genres like psychedelic rock and progressive rock.
Paul McCartney once said that without 'Pet Sounds', there would'nt have been 'Sgt. Pepper'. But it's a chain. Without 'Rubber Soul', there wouldn't have been 'Pet Sounds' as indicated by Brian Wilson. Whatever it is, aren't we all glad we got our 'Pet Sounds'?
Year: 1966
Genre: Pop rock / Progressive rock / Psychedelic rock
Duration: 35:57
Label: Capitol
Producer: Brian Wilson
Rating: 5/5
Meraj Hasan is a Mumbai based communication professional (and an amateur poet/musician) with a passion for listening to music the vinyl way. His 25 year old Technics turntable along with a humble collection of LPs across genres like Classic rock, Classical, Blues and Jazz (amongst others) are his prized possessions.
He can be reached at +91 9833410791 or email: meraj.hasan@gmail.com