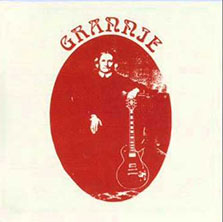 Grannie - Grannie - Underground Unearthed Series Part 1
This lone album of early '70s obscure British act Grannie is superb slice of heavy progressive rock. This LP is highly sought-after by record collectors since its belated discovery in the early '90s (Record Collector magazine included it in their list of the '100 Most Valuable Records of All Time' with value as £850!).

The original LP featuring 6 tracks with excellent fuzz guitar, organ and melody was pressed in just 99 copies, a typical of the underground British bands of that era to avoid tax payment and therefore, ultra-rare. This album has undergone bootleg reissues on LP and CD. Finally, the Record Collector magazine had in 2012 done the only official reissue of this classic LP under its Rare Vinyl series (limited to just 750 hand-numbered copies, mine being 423/750) from original master tapes. Like the original sleeve, the cover artwork of this reissue LP has been hand-glued on plain white cover. The LP comes complete with a band picture insert and a certificate of authenticity from Record Collector magazine. However, even this reissue edition has quickly sold out and is now extremely rare to locate a copy at reasonable price.

Grannie was formed by guitarist Phil Newton in 1968/69 and was initially a cover band playing gigs around East London. Newton then began to write for the band and they began to master tracks like Leaving, Romany Refrain and Saga of the Sad Jester in rehearsals. Around this time, Newton saw an ad in the Melody Maker magazine for an all-inclusive deal at SRT Productions that offered 8 hours of studio time, a master tape and 99 finished LPs for £100. A booking was made and Grannie went into the studio some time in 1971. The line-up featured Phil Newton (lead guitar/vocals), Dave Holland (bass/vocals), Fred Lilley (vocals), Johnny Clark (drums) and the future Mrs. Newton, Jan Chandler (flute/vocals) and John Stevenson played (organ/keyboards). The band began to play on the club circuit at venues like The Greyhound, The Marquee and even The Roundhouse although their journey ended when all of their gear was stolen. Musically, this LP is a heavy prog masterpiece with classics like Leaving, Romany Return and Saga of Sad Jester which feature some excellent fuzz guitar work by Phil Newton, superb bassline by Dave Holland and melodic vocals from Fred Lilley. In fact, the LP is so good that it will be unfair to mention about any specific track. All 6 tracks are excellent and the album must be enjoyed in its entirety. Here's the review of Grannie from Vernon Joynson's legendary book 'The Tapestry of Delights'

'This is one of these mega-rare privately-pressed albums which originally only appeared in demo form with just 99 copies being available in a home-made paste-on sleeve. Later a few stock copies found their way into collector's hands. In its December 2004 edition 'Record Collector' valued this item at 850 pounds. The musical menu is guitar-dominated heavy progressive rock but with sufficient melody to make it worth a listen. It contains six cuts in all with Coloured Armageddon, the punchy Saga Of A Sad Jester and Leaving, which had some melodic guitar work, the pick of the bunch.'

Highly recommended for all fans and record collectors of early '70s obscure British heavy progressive rock!
| | |
| --- | --- |
| Particulars | Details |
| Aritist | Grannie |
| Album | Grannie |
| Category | Studio |
| Original Year of Release | 1971 (Private pressing of 99 copies) |
| Vinyl Pressing/Reissue | 2012 (Official) |
| Genre | Heavy Progressive Rock |
| Format | 180 gm heavyweight vinyl (Reissue) |
| Label | S.R.T. Productions (Limited edition Reissue of 750 hand-numbered copies by Record Collector Magazine under Rare Vinyl Series) |
| Rating | ********** (9/10) |
Reviewed by Aveek Chatterjee

Aveek Chatterjee is a Calcutta-based corporate professional and a passionate fan of classic rock, prog and blues of '60s-'70s. He's an amateur musician and stills finds time to intermittently play drums while jamming with his son on guitar. He's an avid collector of LPs, CDs and DVDs, all from the classic era of music. However, his Audio Technica turntable and the collection of 1000 odd vinyl LPs featuring many rare and hard-to-find albums are his prized possessions.