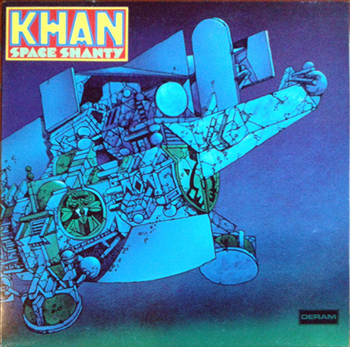 Space Shanty - Khan - Underground Unearthed Series Part 2
'Space Shanty' is the lone album from Canterbury progressive rock supergroup Khan, and is a masterpiece in heavy prog genre. Khan features all the who's who of the elite class of British prog rock scene of the early '70s. As is typical of the Canterbury bands of that time, each member of Khan was also a member of a number of other bands.
Guitarist Steve Hillage played with Arzachel, Kevin Ayers, Gong and made a good career as a solo artist. Keyboardist Dave Stewart played with Hillage in Arzachel & Gong and also played in Hatfield and the North & National Health. Bassist Nick Greenwood played with The Crazy World of Arthur Brown. Khan was formed in 1971 and finished recording 'Space Shanty' in march, 1972. Dave Stewart took a break from Egg to record for Space Shanty sessions. Khan started playing live gigs, supporting the prog rock dinosaurs Van Der Graaf Generator and Genesis. But, after some live dates and continuously changing members except Hillage, Khan quickly shut off its steam and dissolved with members joining different bands.

Musically though, 'Space Shanty' is a heavy prog masterpiece. The instrumentation and the style are pure early British progressive rock and there is a seamless integration of various genres of music such as rock, blues, jazz, psychedelic hippy space-rock and western classical with competent two-part vocal harmony striving for a quasi-operatic sound.
The epic title track sets the mood for the LP and is an amalgamation of all the above genres of music with brilliant guitar-organ interplay between Hillage & Stewart. The next track Stranded also follows the same suit. The last track of Side A, Mixed up Man of the Mountains starts with a straightforward rock beat before all hell breaks loose into some of the best Canterbury prog jamming. The Side B opener Driving to Amsterdam is an epic suite which features some terrific organ and keyboard work by Stewart with a solid bassline from Greenwood. The last 2 tracks, Stargazers and Hollow Stone suites feature some excellent guitar solos from Hillage along with the patented guitar-organ interplay and some tasteful & prominent rhythm section of bass & drums.

'Space Shanty' is a genre-defining LP which was first released on Deram Records in UK in 1972. The excellent artwork suits the space-rock theme of the album. Due to involvement of Hillage & Stewart, the LP, at times, sound a lot like Arzachel and Egg LPs, but more inclined towards cosmic-hippy heavy progressive rock. A jewel in the crown of Canterbury prog and a personal favorite of mine.

Highly recommended for all fans and record collectors of early '70s British heavy progressive rock!

You can listen to the album here before deciding to purchase the LP:
https://youtu.be/O1DuubgN6Z0

Category: Studio
Original Year of Release (First Pressing): 1972 (Deram Records)
Latest Vinyl Pressing/Reissue: 2006 (Tapestry Records)
Genre: Heavy Progressive Space-Rock/Canterbury Prog
Rating: ********** (10/10)

Reviewed by Aveek Chatterjee

Aveek Chatterjee is a Calcutta-based corporate professional and a passionate fan of classic rock, prog and blues of '60s-'70s. He's an amateur drummer and stills finds time to jam with his son playing the guitar. He's an avid collector of classic rock LPs, CDs and DVDs. However, his Audio-Technica turntable set-up and the collection of 1000+ vinyl LPs featuring many rare & hard-to-find albums of classic rock are his prized possessions.