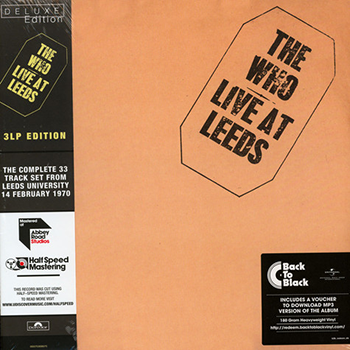 The Who – Live at Leeds
'Live at Leeds' is one of the greatest live albums ever recorded in the history of rock 'n' roll. The LP was originally released in 1970 on Polydor Records and contained just 6 tracks. It reached #3 on Billboard Charts in UK and #4 in USA. 'The Back to Black' 3 LP deluxe edition reissue in 2016 has seen the album in its glorious entirety of 33 tracks in correct running order, thereby capturing the entire concert performed by The Who at Leeds University on 14th February 1970.

Unlike Young Man Blues in the original pressing, the first LP of this edition opens with the Entwistle-penned Heaven & Hell which immediately sets the mood of the album, raw and heavy early Who with distorted power chords of Pete Townshend, melodic bassline of John Entwistle, thundering drums of Keith Moon, all backing up the high-pitched, energetic vocal delivery of Roger Daltrey. This is followed by fine renditions of I Can't Explain and Fortune Teller. Side 1 closes with Young Man Blues, a heavy rendition of Mose Allison classic in patented Who-style, featuring some fine vocals and drums chops by Daltrey and Moon respectively.

Side 2 features the quintessential hits of The Who, viz., Substitute, Happy Jack and I'm a Boy. But, the highlight of Side 2 is the epic A Quick One (While He's Away) which features some excellent guitar work from Townshend. The track is preceded by a brief speech of Daltrey explaining the background story of the song.

The entire 2nd LP features the live performance of classic rock opera Tommy. The LP opens with Overture and sails through the classic tracks of Tommy, notably being Amazing Journey, Sparks, The Acid Queen, Pinball Wizard, Sally Simpson, I'm Free, played with unparalleled raw energy and virtuosity. Tommy continues on Side 5 as it closes with the epic We're Not Gonna Take It, possibly capturing the band at its peak. The rest of Side 5 features excellent covers of Summertime Blues (of Eddie Cochran) and Shakin' All Over (of Fred Heath). Side 6 of the set features epic renditions of the Who anthems, My Generation and Magic Bus, lasting nearly 15 minutes and 8 minutes respectively, showcasing some thundering drums from Moon 'The Loon' and screaming guitar and vocals by Townshend and Daltrey respectively while Entwistle holding the bottom end with his typewriter-like bass playing. A complete classic rock mayhem!

The 3 LP deluxe edition of 'Live at Leeds' is the definitive edition of this classic live album, which a self-respecting classic rock fan can never miss out. The set has been sourced from the original master tapes and has been cut by Miles Showell and Jon Astley at Abbey Road Studios, London using half-speed mastering technology. The LPs are housed inside a triple gatefold cover with many rare, unseen photos and extensive liner notes printed on inner sleeves. This reissue also contains a Japanese-style OBI strip showing track info and others and a download card (for downloading an mp3 version the album) which you can redeem from 'Back to Black' website (http://redeem.backtoblackvinyl.com/).

The album is a must-have for all classic rock fans of '60s and '70s!

Category Live
Original Year of Release (First Pressing) 1970 (Polydor Records)
Latest Vinyl Pressing/Reissue 2016 [Deluxe 3 LP Edition]
(Polydor Records/Back to Black Reissue)
2017 [Single LP Edition] (Polydor Records)
Genre Classic Rock
Rating 10/10

Reviewed by Aveek Chatterjee

Aveek Chatterjee is a Calcutta-based corporate professional and a passionate fan of classic rock, prog and blues of '60s-'70s. He's an amateur drummer and stills finds time to jam with his son playing the guitar. He's an avid collector of classic rock LPs, CDs and DVDs. However, his Audio-Technica turntable set-up and the collection of 1000+ vinyl LPs featuring many rare & hard-to-find albums of classic rock are his prized possessions.