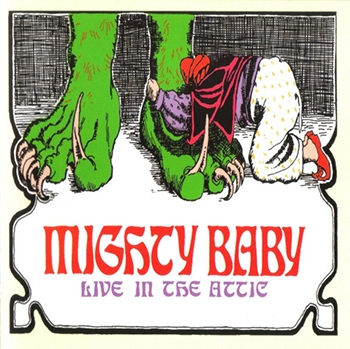 Mighty Baby – Live In The Attic: Underground Unearthed Series Part 3
'Mighty Baby' was formed in UK in 1968 from the ashes of British beat-psych act, The Action. Their sound was typically British, but drew influences from jam rock/prog styles and fused with blues, jazz and folk elements with heavy doses of hippy psychedelia. They released two studio albums, 'Self-titled' in 1969 and 'A Jug of Love' in 1971, both of which are cult classics. However, the peak of 'Mighty Baby' was perhaps captured in the track A Blanket in my Muesli off Glastonbury Fayre 1971 three LP compilation set on Revelation label.

The tracks of this double LP live album were recorded in between the release of two studio LPs and were not included on them. The first three tracks have been taken from a live concert in support of psychedelic rock legends Love from USA at Lanchester University, recorded on Pye's Mobile Unit in March 1970.

The highlight of 'Mighty Baby' set was of course the opener of this set Now You See It, a 15-minute epic instrumental which fuses the Indian-influenced jazz a la John Coltrane with rock-based arrangement. Lead guitarist Martin Stone and rhythm guitarist Alan King played beautifully on this track while the solid rhythm section of Mike Evans (bass) and Roger Powell (drums) kept it tight. On the contrary, the other two songs from that concert, Stone Unhenged and Sweet Mandarin are heavily influenced by country-blues rock of Grateful Dead. LP 1 closes with the melancholic Winter Passes (which along with the other 4 tracks was recorded soon afterwards at London's Olympic Studios) which features CSN-ish harmonies leading into a mellow instrumental jazzy passage.

LP 2 is devoted to the biggest outcome of London studio sessions, Now You Don't an epic four-part, 40-minute improvised instrumental, which again draws from both the exotic Coltrane-influenced jazz and the power of psychedelic rock, all fused into hippy-style jams. The lead guitarist, Martin Stone is again at his peak form here while Make Evans played some melodic basslines and Ian Whiteman has played some excellent flute and organ parts throughout the set.
Highly recommended for all fans and record collectors of early '70s British underground psych prog rock

Original Year of recording 1970
Original Year of Release 2000 (Rolled Gold Productions) (on CD only)
First Vinyl Pressing 2009 (Sunbeam Records)
Latest Vinyl Pressing/Reissue -None-
Genre Hippy Prog Psych Jam Rock
Rating 9/10

Reviewed By Aveek Chatterjee

Aveek Chatterjee is a Calcutta-based corporate professional and a passionate fan of classic rock, prog and blues of '60s-'70s. He's an amateur drummer and still finds the time to jam with his son playing the guitar. He's an avid collector of classic rock LPs, CDs and DVDs. However, his Audio-Technica turntable set-up and the collection of 1000+ vinyl LPs featuring many rare and hard-to-find albums of classic rock are his prized possessions.