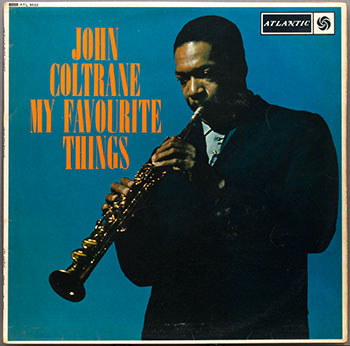 My Favourite Things – John Coltrane
He made the most esoteric and beautiful album in jazz history and he also made the most accessible and beautiful album in jazz history. John Coltrane's 1960 album 'My Favourite Things', consisting jazz versions of pop standards is one of the easiest way to enter the world of both Jazz and Coltrane, making it one of the largest selling jazz albums of all time. It's the perfect yin to the yang of his other introspective masterpiece, 'A Love Supreme', which may not be everybody's key of music.
The album opens up with Coltrane's take on the populist song My Favorite Things (the album gets its name from this) from the musical 'Sound Of Music'. At that point in time John, influenced by his last stint with Miles Davis, was shifting from bebop to modal jazz style. He used the style in this chirpy song to make it a haunting 13 minutes journey. Coltrane used his soprano sax to alter the chord progressions and went off on improvisational tangents while the great McCoy Tyner's piano kept the Broadway song's melody going behind him. It became the most played tune on radios across the world at that point in time and it also became Coltrane's biggest hit.
The other cuts on the album are beautiful as well. Coltrane's playing on Cole Porter's, Everytime We Say Goodbye is subdued but then he becomes improvisational again on Summetime with an abandon. The album ends with Coltrane doing tenor solos on Gershwin's, But Not For Me.
The supporting musicians, McCoy Tyner (piano), Steve Davis (bass) and Elvin Jones (drums), are equally tasteful and relaxed in their approach making this work a masterpiece.
I am not a Jazzman or anything, but I completely enjoy the genre with all its nuances and when someone comes to me asking, "Can you initiate me into jazz"? I play this album along with another masterpiece album.
More on that album in the next edition of vinyl review.
Rating: 5/5
Year: 1960
Genre: Jazz, Modal Jazz
Duration: 40:42
Label: Atlantic
Producer: Nesuhi Ertegun

Reviewed by Meraj Hasan
Meraj Hasan is a Mumbai based communication professional (and an amateur poet/musician) with a passion for listening to music the vinyl way. His 25 year old Technics turntable along with a humble collection of LPs across genres like Classic rock, Classical, Blues and Jazz (amongst others) are his prized possessions.
He can be reached at +91 9833410791 or email: meraj.hasan@gmail.com