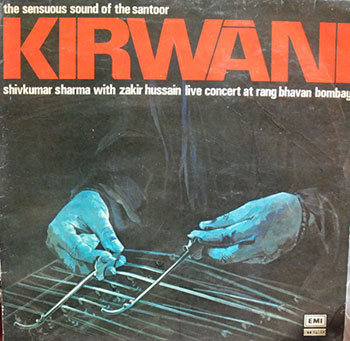 Shiv Kumar Sharma with Zakir Hussain - Live Concert at Rang Bhavan, Bombay
In the collection of LPs records a friend was giving away, I found this rare gem of a disc offering sinuous, sensuous music from the maestro Shivkumar Sharma on his santoor.
Kirwani is a Carnatic (South Indian) musical scale (raga) which is equally popular in Hindustani classical music. It is an Indian raga specially suited for instrumental music. The scale is the same as the harmonic D minor scale in western music.
The disc is unique in many ways. It is an outstanding commercial record of a live public concert held in a jam-packed open air auditorium in India, namely the now defunct Rang Bhavan. This album was recorded way back in 1979, bereft of any extraneous sounds and noises. That too in a day and age when digital was nonexistent. This timeless concert is in its own way a work of mastery. Shivkumar has the right instincts and plenty of natural talent. The palpable joy in music making which Shivkumar like every great artiste experienced and shared with his huge audience at the live concert, comes through in all its naturalness in the disc.
1979 also marked the silver jubilee year for the santoor as a classical instrument. For it was in 1954 that Shivkumar Sharma first brought the santoor on the concert platform at a marathon music festival in Bombay. The reactions of the audience to the santoor versions of classical melodies were then mixed. But Shivkumar knew what he was doing. He had chosen and has now built a precocious solo career through the simple Kashmiri folk instrument.
Pandit Shivkumar Sharma is always at his best, then and even now. This immaculate presentation by two maestros, the other being Zakir Hussain is probably the greatest rendition of this raga I have ever heard - sheer brilliance. The santoor played by Pt. Shivkumar Sharma is preceded and 'paced' by Pt. Zakir Hussain on the tabla in a moving slow set, moving to a more pacy beat as the set plays on.
The Hindustani version Kirwani heard in all is bitter – sweet pensiveness on this disc, is a vast difference to the performance Shivkumar and Zakir Hussain have given in recent times of the same pieces. The listener senses a mystical rapport between the artiste and his instrument. Not only has Shivkumar created a rapport with the instrument, rapport with the audience, but a rapport with the accompanist too.
All in all, this disc is a masterpiece of taste, imagination and most delightful of all soulful music. Mr. Kishor Hiranandney who recorded the live concert deserves a pat on the back for his superb making of the tape and offering it to the Gramophone Company of India Limited in order to make this disc.
I know nothing much about classical Hindustani music, but I know that for me this is beauty, heart touching music. Classical music is something one grows up to, you cannot suddenly start liking it. Played on a good hi fi system, this disc brings heavenly music that soothes the mind and puts you in a divine trance.
Today Shivkumar enjoys world acclaim for the santoor, and so does his son Rahul Sharma. He has acquired an audience ready and willing to wind its way to any concert hall where he is performing. Pandit Shivkumar Sharma is definitely the King of Santoor while Ustad Zakir Hussain is the Prince of Tabla.
Label: EMI
Rating: *****
Reviewed by Verus Ferreira