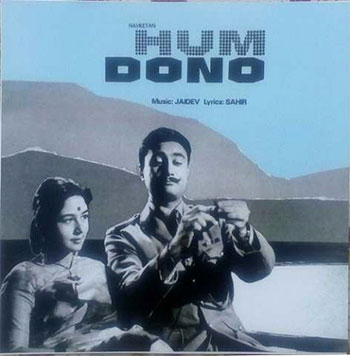 Hum Dono – Jaidev / Sahir Ludhiyanvi
Take any Mehfil (Urdu for an artistic evening congregation) and the song, Abhin Na Jaao Chod Kar Ke, eventually gets sung by someone who thinks he can do it well. This is likely to happen in the year 2018, 57 years after the song was released. This is the power of Hum Dono's songs, composed by Jaidev and written by Sahir.
Jaidev ran away from his home to become a movie star and ended up becoming one of the most unique music directors in the Hindi Film industry. And Sahir left Pakistan for India after the partition to become the finest poet/lyricist in the Hindi Film industry. And together they created this musical masterpiece.
The album has two of the greatest Bhajans ever made and both sung by the great Lata Mangeshkar; Allah Tero Naam and Prabhu Tero Naam. Sahir sparkles with his lyrics. Take these lines from Allah Tero Naam.
Nirbal Ko Bal Denewaale
Balwaanon Ko De De Gyaan
(You who give strength to the weak ones
Do give wisdom to those who have strength)
The album also has one of the greatest romantic duet ever made. Abhi a Jaao Chor Kar, sung beautifully by Mohd Rafi and Asha Bhosle is the iconic mehfil song. The song has a sonorous solo version by Asha Bhosle as well, wherein once again Sahir sparkles with his words.
Jahaan Mein Aisa Kaun Hai
Ki Jiski Gham Mila Nahin
(There isn't anyone in this world
Who hasn't experience pain)
Then there is the quintessential philosophical track of living life with its flow. Main Zindagi Ka Saath Nibhaata Chala Gaya is Sahir's summation of how he assessed life. The song is composed and sung (Mohd Rafi) with a matching zest. Finally, it has the finest sad song ever made, Kabhi Khud Pe Kabhi Halaat Pe, a rare achievement of lyrics, composition and singing coming together in such an exquisite way. Musically, it's the most complex song ever made but sung effortlessly by the great Rafi Saab. Lyrically, Sahir is at the top of his job with lines like:
Kaun Rota Hai Kisi Aur Ki Khaatir Ae Dost
Sab Ko Apni Hi Kisi Baat Pe Rona Aaaya
(Who cries for someone else's pain,
my friend Everyone just cries for his/her own misery)
Jaidev learnt music from the great Ustad Ali Akbar Khan and then later learnt film music by the great SD Burman as his assitant. His body of work is small, melodious and highly noteworthy. Later he went on to win three National Awards for his work in 'Reshma Aur Shera;, 'Gaman' and 'Ankahee;. But it's the music of 'Hum Dono' that brought him to national prominence. It's this wonderful album that we will always remember him for.
Year: 1961
Genre: Hindi Film Music
Rating: 5/5
Reviewed by Meraj Hasan
Meraj Hasan is a Mumbai based communication professional (and an amateur poet/musician) with a passion for listening to music the vinyl way. His 25 year old Technics turntable along with a humble collection of LPs across genres like Classic rock, Classical, Blues and Jazz (amongst others) are his prized possessions.
He can be reached at +91 9833410791 or email: meraj.hasan@gmail.com