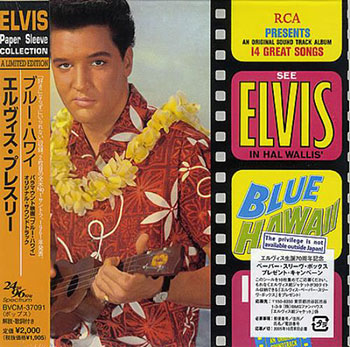 Blue Hawaii (Soundtrack) – Elvis Presley
'Blue Hawaii' is the fourth soundtrack album that Elvis released, both in Mono and Stereo. The film also starred the handsome singer in the lead role.
The film finds Elvis back home in Hawaii from the Army where he defies his Industrialist Father and even more so, his Mommy, continues his romance with a local girl, and starts his own business. In between, there are lots of songs and gorgeous scenery.
And the songs are first rate, two big time American oldies, Bing Crosby's Blue Hawaii and Hawaiian Wedding Song written by Charles E. King for his 1926 operetta "Prince of Hawaii", no less than one of Presley's instantaneously a standard Can't Help Falling in Love co-written by George David Weiss.
The second side of the album, has dance tracks like Slicin' Sand, its stop start structure has Elvis leading his young friends in a super twirl. This is followed by Hawaiian Sunset -with its traditional sounding instrumentation and a beautiful ode to the end of a day.
The fourteen tracks are lovable at the very first listen, giving you room for nostalgia. It is said that this album was recorded over three days with DJ Fontana on drums, Scotty Moore on guitar, Boots Randolph on sax, while you have the Jordanaires and the Surfers on backup vocals. There's also Hank Garland on acoustic guitar.
Elvis delivers well, his voice fresh of a young lad of 26. He has a good range from love songs to up-tempo pieces, songs that would later become a big star in his career.
The 'Blue Hawaii' soundtrack was nominated for a Grammy Award in 1961 in the category of Best Sound Track Album or Recording of Original Cast from a Motion Picture or Television, but sadly never made it.

The album became one of Elvis top album of his career and the songs from the album brought in higher sales for the movie too.
Rating: ****
Reviewed By Verus Ferreira