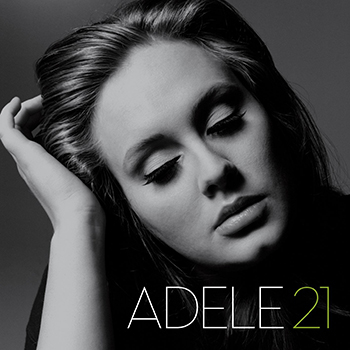 21 – Adele
Three years after the release of her celebrated debut album 19, Adele returns quite in style with her sophomore set 21. The album brings out the personal and artistic growth of the Grammy-winning vocalist. Adele's 2011 album to commemorate her turning 21 needs no introduction. Expect some mushy as well as some great R & B pop tunes on both sides of the LP.
The offering's first single, Rolling in the Deep when released, served as an adequate teaser for 21 which highlights the singer's personal experience with love – ranging from complete heartbreak to pure joy. A song that can never go out of our head even now that sky rocketed the charts all over the world. Her mellifluous voice soared to never ending heights and anyone who heard it knew the intensity of Adele's voice. Rumour has it was a cool pass over yet another super hit Set Fire to The Rain with its strong words and chorus, was another masterpiece that we can put on replay. Don't miss Don't You Remember with its bluesy guitar riffs and instrumental backing from the banjo and the accordion, the Rick Rubin-produced song gives licks of is country music influences that permeate the album. He Won't Go that ends Side A, talks about a woman who loves a man who is already involved and can't make the decision to leave.

The opener on Side B begins with the piano based Take it all. Adele has her own target listeners; she gives you songs to listen when we feel sad and lonely. While many delve on her own experiences in love, her songwriting is top class; she doesn't need to write upbeat songs to please one group. She is a million seller because a lot of people listen to her "slow" songs and relate to them at any time. Take the case of songs like I'll be Waiting, One and only and album's final track Someone Like You. Many who has heard it has fallen in love with the ballad, the lyrics, the soft tones of the melody and the strikingly beautiful video, leaves you in amazement. Those high pitch vocals carry the song to another level.
Packed with an 11 track playlist, all the songs are penned by the Adkins girl. Almost every song addresses heartache in one form or another, besides of course a love affair gone sour, love and its various shades, and unwittingly forgiveness, when it comes to a relationship.
If you want some mushy ballads for a good hour or so, Adele gives you many to choose from. She is, undoubtedly the greatest vocalist of her generation, an artist who instinctively understands timbre and pitch, when to soar and when to whisper.
There are no lyrics to the songs on the LP album sleeve, but two beautiful black and white pictures of the lady. Absolute quality, very nice to hear on Vinyl.
Label: XL
Release: 2011
Vinyl: 180g LP
Rating: ****
Reviewed by Verus Ferreira