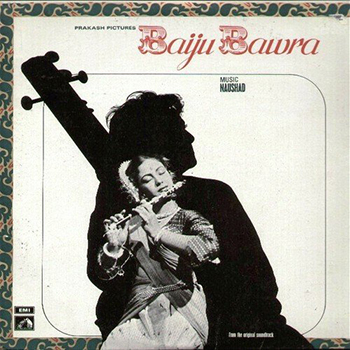 Baiju Bawra – Naushad / Shakeel Badayuni
Classical music of the Indian sub - continent is based on the melodic structures called Ragas. Each Raga has its own personality and symbolizes aspects like time, season and mood. Raga Yaman for example, is an evening melody and Raga Malhar represents the famous Indian monsoons.
Tansen was one of the greatest exponents of Hindustani Classical music during the 16th century. He created Ragas like Deepak and Malhar and was one of the Navratnas (Nine Gems) in the court of Emperor Akbar. Legend has that he was once defeated in the battle of music by a wandering musician called Baiju Bawra.

Vijay Bhatt the great film-maker from yesteryears, put these two interesting ideas together in the form of a movie called 'Baiju Bawra', released in the year 1952. Here is the basic plot. Tansen is known to be the greatest musician alive. Nobody is allowed to sing in the city unless he or she can sing better than Tansen. Anyone who attempts to sing, without doing it better than Tansen, is executed. Baiju's father dies when Tansen's sentry tries to stop him from singing. Years later, Baiju avenges his father's death by defeating Tansen in a musical duel.
Needless to say, music was the most crucial aspect of this work and Bhatt appropriately chose the classically accomplished music director, Naushad Ali for the job, with Shakeel Badayunias the lyricist. He also got the great Ustad Amir Khan as the musical consultant on the project. Naturally, the resulting soundtrack is one of the marvels of Indian film industry and an ode to our rich musical culture.

The LP starts off with a composition in Raga Puriya Dhanshree sung by Ustad Amir Khan setting the classical context. The album ends with a brilliant duet between Amir Khan (voice of Tansen) and another classical music giant, DV Paluskar (voice of Baiju). 'Aaj Gawat Man Mero' which is based on Raga Desi represents the duel wherein Baiju defeats Tansen. In between these two pure classical tracks, lie the timeless gems which are nothing short of lessons in Hindustani classical music.
If you want to know Raga Bhairavi in the best possible way, listen to the Rafi-Lata duet Tu Ganga Ki Mauj with its beautiful intro Akeli Mat Jaiyyo. If you wish to enjoy Raga Bhairav in its true essence along with pristine singing from Lata, there is the grave Mohe Bhool Gaye Saanwariya. If you want cadence in Raga Pilu, then give Jhoole Mein Pawan a spin.

If you want to enjoy a little Bhajan in Raga Malkauns, listen to Man Tarapat. It's perhaps the best Bhajan ever made in the history of Indian film music and the people involved in it were Naushad Ali, Shakeel Badayuni and Mohd. Rafi.
Then comes a hidden gem, one of the most sonorous songs sung by Lata Mangeshkar, Bachpan Ki Mohabbat Ko. Its longing is heart-tugging. You then have O Duniya Ke Rakhwaale, that quintessential Raga Darbari track wherein Mohd. Rafi displays his incredible singing skills. The song is still a touchstone to prove a singer's competence.
Naushad brought the intricate nuances of Hindustani classical music to the common man with Baiju Bawra, and it remains the best primer on our rich musical tradition. Hundred years from now, if one wants to understand Hindustani classical music, the album 'Baiju Bawra' would be the best way to do so. The songs will still remain fresh.
Year: 1952
Genre: Original Soundtrack
Label: EMI
Rating: *****

Reviewed by Meraj Hasan
Meraj Hasan is a Mumbai based communication professional (and an amateur poet/musician) with a passion for listening to music the vinyl way. His 25 year old Technics turntable along with a humble collection of LPs across genres like Classic rock, Classical, Blues and Jazz (amongst others) are his prized possessions.
He can be reached at +91 9833410791 or email: meraj.hasan@gmail.com