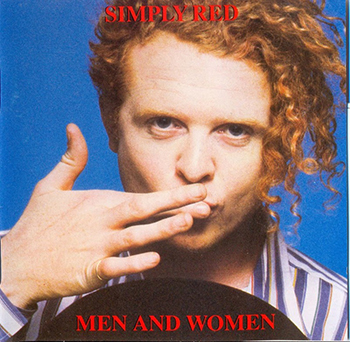 Men and Women – Simply Red
One of the few LPs that ws gifted to me way back in the late 80s by friends visiting India who knew my ardent love for LP records.
Simply Red's second release after their debut album 'Picture Book', is nice while it lasts, a few toppers and a few that really don't hit the mark. The band is known for their funk and soul sound, and they bring 10 songs that are pleasing to the ear. The songs run through rock, jazz, R&B and soul, sung mainly by Mick Hucknall, the band's emotive tenor lead vocalist. Hucknall was lauded as one of the greatest new vocalists then and probably still is one of the favorites around.
A quarter of a century later, this album is reminds me of the song that really made an impact on people. Holding back the years, a track from their debut effort still rings loud whenever it is played. On this album you have the talented singer and writer on songs like The Right Thing, Suffer and the rather lovely Maybe someday, groovy stuff. The subject is bold on The right Thing with fairly explicit bedroom vignette about how "I ain't never gonna stop to get what you got/You better take what I bring." Also his take on the Cole Porter track Ev'ry Time We Say Goodbye, is decent and also rather an unusual choice for the time. The jazz based piece is fused with a bit of Hucknall's own magic as he weaves his way on the lyrics that celebrate how very happy the singer is when in the company of their beloved, but suffering equally whenever they separate. Notice the change in spelling of the word 'Every'. Many artists have replaced the apostrophe in "ev'ry" with an "e".

For someone who loves reggae Lovefire is s bit of a lowdown, with a lack of groove or pitch to make it really lovable. Moving around the human relationships between boy and girl, you also have songs like Infidelity and Move on Out. The lyrics try to communicate something about intimate relationships with success.
Overall the album bursts with musically rich ideas, interpreted by the kind of musicians who could put them across. This LP doesn't live up to the challenge that the debut represented. Although Hucknall's piercing tenor and the band's ensemble work are as impressive as ever, this album is a must listen to, as it brings the magic that was the eighties.

Raitng ***
Release Date: 1987
Duration: 41:07
Genre: Pop Rock, R & B
.
Reviewd By Verus Ferreira