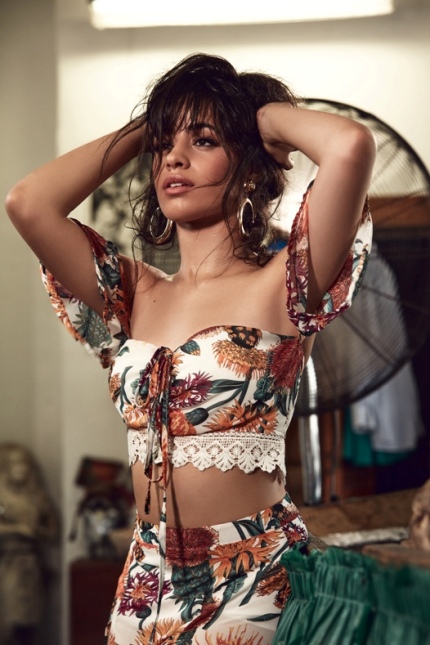 14th October, 2018
Taking you to Havana: Camila Cabello
Camila Cabello never forgets where she came from. Well how can she, when she has composed and sung a song about her native Cuban (her hometown is actually Cojimar), a song called Havana that has been played and replayed numerous times all over the world. The mid tempo slow jam is a sexy salsa styled tune that talks about falling in love with a Cuban guy with the lyrics going…..
Havana, ooh na-na (ay) Half of my heart is in Havana, ooh-na-na (ay, ay) He took me back to East Atlanta, na-na-na Oh, but my heart is in Havana (ay) There's somethin' 'bout his manners (uh huh) Havana, ooh na-na (uh)
On this song we also remember when people from Cuba were fleeing, and we can probably connect the two to when singer Camila has to leave Havana, Cuba. So it's not only about a boy that she is talking about, but what she means by "Half of my heart is in Havana," meaning the boy has half her heart or her home Havana has half her heart. Whatever the case be, the song has caught everyone's heart with its folk styled touch to it. The music video is equally eye candy for many with its beautiful visuals of old town Cuba.
Going back in time to her early days, Karla Camila Cabello Estrabao was born on 3rd March 1997 in Cojimar, Eastern Havana Cuba, to parents Sinuhe Estrabao and Alejandro Cabello. She has a beautiful sister Sofia who was born in 2008. Camila is half Cuban and half Mexican, with her father hailing from Mexico City. Thus her early days were spent shuttling between Cuba and Mexico, before her family finally latched up and settled down in Miami, Florida. Camila knew she had a penchant for singing and to fuel it further she took part in whatever school activities that came her way while she attended Miami Palmetto High School. But sometime around 2013 when she was studying in the 9th grade, she decided that she had had enough and dropped out of school to pursue a career in singing. Her parents then decided to continue her education by getting her homeschooled.
Camila loved listening to pop and R & B music groups, not forgetting her Latin music styles that came her way. While still very young, Camila auditioned for the second season of The X Factor in 2012, singing one of her favourite artists track, namely Aretha Franklin's Respect. Being a cover song, the audition was not aired, as the TV channel who was broadcasting the show, did not get the rights for the song. But to her surprise a few days later, after elimination during the "boot camp" portion of the process in Miami, Florida, Camila was called back to the stage along with other contestants who would become not only her band mates, but friends forever. Camila joined Ally Brooke, Normani, Lauren Jauregui and Dinah Jane on stage as the judges pronounced them as joint winners to form a band that later came to be known as Fifth Harmony.
Karla Camila Cabello Estrabao dropped the first and last name and went with her stage name as Camila Cabello all through her career.
After finishing in the third place on the show, the five girls signed a joint deal with Syco Music, owned by Simon Cowell and Epic Records to go ahead and record a music album.
The first song the group released was the EP Better Together in 2013 which was followed a year later with their first studio album 'Reflection' (2015) that sadly did not spurn any hit songs.
In November 2015, Camila collaborated with Canadian singer Shawn Mendes on a duet I Know what you did Last Summer a song they wrote together. The single charted at number 20 in the US and 18 in Canada and was certified platinum by the Recording Industry Association of America (RIAA).
Camila also jammed a year later with American rapper Machine Gun Kelly for a song Bad Things which surprisingly reached number four on the US Billboard Hot 100. She was also included on www.time.com as "The 25 Most Influential Teens of 2016" list.
The girl group was back with '7/27' (2016) with two songs from the album Worth It and Work from Home , that gave them some international coverage with both reaching the top 10 in several international charts. Though both the albums were not really big time in the sense that it did not bring in a lot of money for the group, all members had one way of attracting fans, through their saucy music videos and great locales they choose. But that was it, no hits singles that stood out from the other bands doing the rounds. The only option left for the band was to jump on the bandwagon and do a few concert tours after their two albums.
By the end of 2016, Camila decided to go her own way with the band officially announcing her departure with both parties explaining contradictory circumstances of the exit. Good decision or band, by the look of it, it seems that Camila made a good start of her solo career. There have been many others who left girl bands for solo careers; you had the 80s and the 90s with The Dixie Chicks, TLC, En Vogue, The Spice Girls, then Destinies Child, Girls Aloud, The Pussycat Dolls, Little Mix, the list goes on.
On 25th January, 2017 Camila released a song Love Incredible a collaboration with Norwegian DJ Cashmere Cat which leaked online, with the official version of the song released on 16th February that year. The song was later featured on Cashmere's debut studio album. Camila joined hands with ace spin master Pitbull and J Balvin for Hey Ma for the album 'The Fate of the Furious: The Album'. The song was released in English and in Spanish. The singer donned superiority with another collaboration, this time with EDM biggie Major Lazer, Travis Scott and Quavo for the song Know No Better.
In May 2017, she announced the release of her first studio album, at the time titled 'The Hurting. The Healing. The Loving' which she described as "the story of my journey from darkness into light, from a time when I was lost to a time when I found myself again. Camila started off her solo career as a solo artist with the release of her first solo single Crying in the Club which got little response. She also gave a spellbinding performance at the 2017 Billboard Music Awards that year, thereby getting noticed as the singer who left Fifth Harmony and on her way to a solid solo career. The song peaked at number 47 in the United States. She later took off and joined Bruno Mars on his 24K Magic World Tour as an opening act for several of its dates. She also got signed onto clothing brand GUESS as the face for their 2017 Fall campaign.
After the tour, going back to her Cuban roots, she focused on the Latin influenced music, and within a year of her departure from Fifth Harmony, she dropped the assigned name of her album and instead released her eponymous debut self titled studio album 'Camila' in January 2018. On the strength of her one single Havana, the album debuted at number One on the US Billboard 200, which reached number One in a number of countries, including the UK and the US.
Camila makes use of her elements such as reggaeton, dancehall and hip hop in her album and lists Alejandro Fernandez and Celia Cruz as her Latin influences which she portrays in her music. She also loves the music of Michael Jackson, Rihanna, Shakira and the works of Ed Sheeran and Taylor Swift.
Coming back to the single Havana, it must be mentioned that the single has reached number One in Australia, Canada, the United Kingdom, and the United States. The pop Latin based album contained not only Latin influenced songs, but also a few love ballads. The album was certified Gold in the US while the single Never be the Same was released as a second single.
Since her rise to fame, Camila, has always been on the lookout for those in need, be it raising funds for Save the Children to design a limited-edition "Love Only" T-shirt to help raise awareness of issues involving girls' equal access to education, health care and opportunities to succeed or Children's Health Fund, a non profit organisation, dedicated to providing healthcare to low-income families with children.
In late 2017, Camila joined Lin – Manuel Miranda and multiple other Latin artists on the song Almost like Praying to benefit those in Puerto Rico who were affected by Hurricane Maria.
When you give, you get and rightly so, Camila was bestowed with awards, from an MTV Europe Music Award to the Billboard Women in Music award for Breakthrough Artist, she got praise all over.
On the personal front, Camila has been linked with many famous names. She briefly dated singer Austin Mahone in 2014, but broke up with him because of his cheating. She says he was her first love. Also, she dated her fellow celebrity and collaborator Shawn Mendes. Most recently she has been linked with coach Matthew Hussey.
Not many know, but the singer suffers from OCD, obsessive-compulsive disorder. But that aside, the 21 year old singer is about to have the best summer, ever. Camila is in the middle of her Never Be the Same Tour and then will go off to join Taylor Swift for her Reputation Tour. And during both world tours, Camila Cabello will have the support from not only her friend Swift, but her mother, who is always with her when she's away from home.
The star-studded 2018 MTV Video Music Awards (VMAs) are officially over (held on 22nd August 2018 held in New York) and all of the Moonman trophies have been given out. Camila was star struck when Madonna presented her with the Video of the Year award.
Camila also performed an autobiographical song on the recenlty held American Awards award show stage and earneda standing ovation from the audience. She performed Consequences, off her debut album, 'Camila'.
Standing before a lone microphone in a ball gown and elbow-length gloves, Cabello showed off her range with the emotional ballad, a far cry from her summer dance hit Havana, which won the award for favorite pop/rock song earlier in the night.
The singer also took home the award for Best New Artist of the year and was nominated for favorite video and favorite collaboration for Havana, shared with rapper Young Thug, as well as favorite female pop/rock artist.
Backed by an orchestral ensemble, Cabello brought the crowd to their feet with her song about a former love.
n Collated by Verus Ferreira