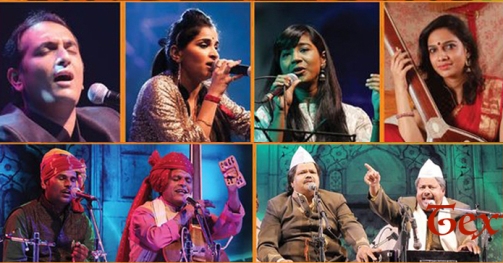 14th July, 2017
Concert Review: Khusrau – Kabir – Across Centuries…
It usually becomes challenging to describe strong personalities and music par excellence. Hazrat Amir Khusrau and Sant Kabir rightly fall in this class. Legends, geniuses, maestros. The Khusrau- Kabir concert was a tribute to these musical and literary giants of their eras. And such is their impact, that time and again, their compositions and poems are relived generation after generation.
Contemporary Indian music today, is a blend of ancient musical forms, folk music, commercial and pop music. While many pass off fusion music as contemporary, it was a pleasant change to witness some genuine compositions. The Khusrau- Kabir concert had an eclectic mix of performers. Beginning the show was Gayatri Asokan, playback singer who mainly works for Malayalam cinema. Having said that, her diction and pronunciation were flawless. She fully justified beautiful compositions like Eri Sakhi More Piya Ghar Aye (original lyrics by Hazrat Amir Khusrau), one of the most popular Sufi songs. The song speaks of a beloved coming home but is likened to the divine presence in our hearts. Her rendition of Mohe Apne Hi Rang Mai Rang De had the audience lost in her melodious voice and effortless Taans. Homage by Amir Khusrau to his Khwaja, The Great Saint Hazrat Nizamuddin Auliya, the song is a celebration of spring and his devotion and surrender to his Divine master. The music arrangement was simple and effective, with the Tabla, Percussion, Harmonium and Keyboards.
Taking the show ahead with Sant Kabir's creations was Alap Desai, son of singer composer Ashit Desai. Singing one of Sant Kabir's mystical poems Mann Lago Mero Yaar Faquiri Mai gave beautiful glimpses of Raag Bhupali. His second rendition Jhini Jhini Bini Chadariya was a powerful composition, composed by his father Shri Ashit Desai. Playing the Harmonium himself, he enlivened the Kabir poems with his voice. Adding to the charm of the performances were Ojai Adina (Tabla), Deven Pandya (Percussion) and Vidhal Dhumal (keyboards).
A change in set up brought in a change in the style of performances too. Presenting Hazrat Amir Khusrau's Mann Kunto Maula, a Manqabat – a Sufi devotional poem in praise of Ali ibn Abi talib, was Shruti Pathak. Hindi playback singer and Coke Studio artist, Shruti stayed in the limelight with her vocals despite the presence of the double bass – standing at a height of 180 cms , it is one of the oldest and lowest-pitched stringed instruments in orchestra history. Creating magic on the Double Bass was Abhinav Kokhar. Bringing in the Jazz vibes with the interjecting pieces on the Guitar was Amandeep Singh and Anurag Naidu on the Keys. And what completed this contemporary feel, was Arshad Khan playing the Esraj- blending two musical genres in one divine song.
Continuing with the same musical arrangement, we then had Bollywood artist Shilpa Rao on stage. Interacting with the audience, she sang two heart touching poems of Hazrat Amir Khusro, Ambwa Talay Dola Rakh De Niharva and Hare Hare Baans, both traditional folk songs on weddings and daughter's farewell (Bidaai). The opening piece of the Esraj and its effect, for Hare Hare Baans was so apt for the bittersweet emotion of the poetry.
Keeping the audience charmed with honest performances was Pralhad Singh Tipanya, an Indian folk singer hailing from the heart of our land Madhya Pradesh. His Kabir bhajans are sung in Malwi folk Style, along with his instrumentalists on the Violin, Harmonium, Dholak, Manjira while he himself played the Tambura and Khartals. His simple clear voice without any frills, explains complex Kabir Dohas and verses of the Bhajans. A seasoned classical music listener will understand that Tipanyaji doesn't have any formal training in music, but this fact gets overshadowed by his deep understanding and embodiment of Sant Kabir's teachings .A Kabirpanthi by heart and practice, Tipanyaji and his musicians brought in a contrast to the earlier performances of the evening.
Bringing the show to a flourishing end were the renowned Qawwals, the Sabri Brothers. With Mohd.Asif on the Dholak as the only accompaniment, they enthralled and got the crowd involved and clapping along with them to the beats of the epic Hindi poem written by Hazrat Amir Khusro and an extremely popular qawwali, Chaap Tilak Sab Cheeni. The wonderful camaraderie between the artists and the audience was pleasing. As is usually the norm, the end of this divine night was approaching when the Sabri Brothers began their performance with the qawwali Aaj Rang Hai. Another Amir Khusrau gem.
The evening was as versatile as Hazrat Amir Khurau's works and as divine as Sant Kabir's teachings, with a beautiful blend of Indian classical presented in a contemporary style, folk and Sufi music!
Venue: Nehru Centre, Worli
Date: 23 June 2017
By Ashwini Narayangaonkar-Kamath
Ashwini Narayangaonkar-Kamath is the eleventh generation of her family to be dedicated to the ancient art form of Indian classical music. As a singer she has performed in India and abroad, has music albums to her credit and successfully runs her classical music academy - Deepak Music Academy all over Mumbai.
For more details do log onto her website:
http://www.deepakmusicacademychembur.com