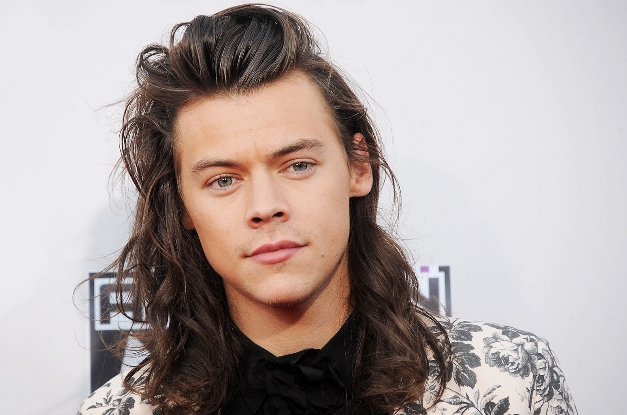 16th November, 2017
Harry Styles - A Profile
His powerful vocals on his solo hit track Sign of the Times from his self titled debut album, is currently topping the charts all over.
English-born singer and teen heartthrob Harry Styles, best known as one of the five members of boy band One Direction has moved on to a solo career and is living it up just like his band mates who have also made music all by themselves.
Styles was the youngest member of One Direction, and his curly hair, wide smile and sweet-yet-naughty demeanour have made him a fan favourite and poster boy. He sang some of the lead vocals on the band's first single, What Makes You Beautiful, which was released in September 2011 in the United Kingdom. One Direction's debut album, 'Up All Night', was a best seller in both the United Kingdom and the United States the following year.
Harry Styles was born Harry Edward Styles in Bromsgrove, Worcestershire, in the West Midlands region of England on 1st February 1994 (He is just 23 years old). His parents, Des and Anne, divorced when he was only 7 years. His mother later remarried Robin Twist who became Styles step dad. He and his brother Mike and sister Gemma were brought up by their mother in the town of Holmes Chapel in Cheshire. Styles attended Holmes Chapel Comprehensive School, where he and three of his friends formed a band called White Eskimo. Styles was White Eskimo's lead singer, and the band was popular enough to win a band competition at their school. After school and on weekends, Styles worked at the W. Mandeville bakery in Holmes Chapel.
He first sang in a band in a school competition, and in 2010 he performed on the television show The X Factor. When he was 16 years old, Harry competed in the seventh season of the television show The X Factor, singing Stevie Wonder's Isn't She Lovely as his audition song and Oasis' Stop Crying Your Heart Out in a later round. He was cut before the finals, but in a surprise move, Judges Nicole Scherzinger and Simon Cowell put him together with fellow competitors Niall Horan, Liam Payne, Louis Tomlinson and Zayn Malik to form a new group act for the remainder of the competition that came to be known as One Direction. Despite finishing third in the contest, One Direction received a recording contract and became a best-selling boy band.
Performing as One Direction (a name reportedly suggested by Styles), the five boys became one of the most popular contenders in the X Factor finals that season. Although they finished the competition in third place, they were immediately signed to Cowell's Syco music label.
Styles and his One Direction band mates released five albums 'Up all Night' (2011), 'Take me Home' (2012), 'Midnight Memories' (2013), 'Four' (2014), and 'Made in the A.M' (2015). They have also performed on two worldwide tours, one featured on concert film 'One Direction: This is Us' and won several awards, including five Brit awards and four MTV Video Music Awards.
'One Direction' was the first boy band to have their first five albums debut at number One in the United States. Also, it became the first boy band in US chart history to land two number one albums in a calendar year. Each of its five albums did exceedingly well at the charts.
But trouble soon cropped up in the band. In March 2015 when the band was planning out their next album, Zayn Malik left the group. Nevertheless, the remaining members continued working on their fifth album, which was also their final before their self-called hiatus. The album 'Made in A.M.' released in November 2015 to favourable reviews from critics. It debuted at number one on the UK Albums Chart and at number two on the US Billboard 200. Its singles,
Following the hiatus of 'One Direction', Styles moved ahead to pursue a solo career in music. With Zayn on a steady solo effort, Liam, Niall and Louis all also close to releasing solo stuff, in June 2016, Styles he signed a three album solo record deal with Columbia Records (the same record label as One Direction) as a solo artist. He also collaborated with several other songwriters, from Arianna Grande, Michael Buble, Snow Patrol's 'Johnny McDaid' and One Republic's 'Ryan Tedder' to even writing for them.
On 31st March 2017, Styles announced his first single Sign of the Times and its accompanying cover art through Instagram. In mid May, he released his self titled debut album which by a single listen seems to be more heavily influenced by 1970s soft rock. It debuted at number one in several countries, including the UK, the US and Australia. The album received generally favourable reviews from critics. It is reported that Styles is about to embark on the Harry Styles Live on Tour this month.
Besides making music, he also made his acting debut for Christopher Nolan's action-thriller war film 'Dunkirk' released in late July this year. He shares screen space alongside Tom Hardy, Mark Rylance, Cillian Murphy and Kenneth Branagh. The film is based on British military evacuation in World War II. He auditioned against hundreds of other candidates, ultimately winning the role with Nolan saying he was unaware of the extent of his fame, and that Styles earned the role "because he fit the part wonderfully and truly earned a seat at the table.
On the personal front, sources reveal that Styles is known as "the flirt" or the Casanova of One Direction, and his romantic relationships have been followed obsessively by the press and his fans. In 2011, he dated television presenter Caroline Flack whom he met when he was competing on The X Factor and she was hosting its companion show, The Xtra Factor. The difference in their ages, Styles was 17 at the time, and Flack was 32 was a hot topic for discussion. Their relationship hit the headlines globally, however, the two split in 2012.
Since his breakup with Flack in January 2012, Styles has been romantically linked with photographer Sarah-Louise Colivet, models Emma Ostilly and Cara Delevingne, and singers Lily Halpern and Rita Ora. His most-publicized relationship of 2012 was a two-month liaison with pop star Taylor Swift. The two were frequently photographed together, and Swift reportedly referred to Styles in song lyrics and performances after they stopped dating. The two moved apart in January 2013.He later dated Sara Sampaio, Kendall Jenner and Nadine Leopold. He is presently dating popular lingerie model Camille Rowe.
Styles is still and will always be the darling of female fans who go weak in the knees at the very mention of his name. We hope to see and hear more of him and maybe see him one day on Indian shores for a visit or a concert.
By Verus Ferreira