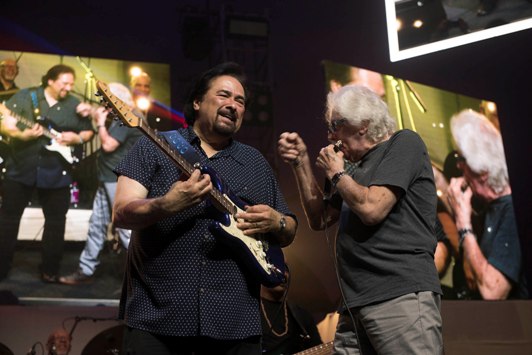 03rd March, 2018
The Mahindra Blues Festival 2018: Concert Review
Despite coinciding with the Carnival weekend, where a large number of people head off to Goa or for those who can afford it, Rio, the eighth edition of the Mahindra Blues saw an ample number of devotees and new disciples on both Saturday as well as Sunday.
Mehboob Studios, Bandra , on which volumes of Bollywood film lore can be written, has remained the venue of choice right from the first edition. With the burgeoning crowds, year on year, one wonders if there would be sufficient space to accommodate all. As one enters, after the customary checking at the gate, huge images of artistes who have performed here in the past are displayed. This has become a selfie point for the highly socially networked. The Soul Strat Saloon (named after Soul Mate and Black Strat Blues, India's foremost Blues acts) and Polka Dot Parlour (named after Grammy winner Buddy Guy's trademark guitar design) were the two main locations for the artistes besides the Garden, where the winners of the Mahindra Blues hunt would perform.
To keep people in good spirits, there were two well stocked bars, one in a former stage venue and one in the Garden. Great aromas of grilled food, pizzas and other snacks were floating in the air. Free water and coffee was dispensed at strategically positioned counters. The Orange juice counter symbolic of Oranjuice who were the event organizers, rubbed shoulders in the Garden with Pilak Bhatt's Music Circle stall which had various vinyls for turntable aficionados.
Brian Tellis, everybody's favourite concert host for many years, engaged the crowd with his good humour and fielded some quiz questions between acts.
The event kicked off with powerhouse performer Layla Zoe, an internationally recognized blues singer/songwriter from Vancouver, British Columbia. Often compared to the legendary Janis Joplin, her sassy engaging style and powerful voice, was a great opening act to get the audience into the right Blues mood. An electric guitar heavy Rock and Roll Guitar Man and an acapella Bobby Mcgee displayed her ability to shift tempos with ease.
Next up was local favourite and Mahindra Blues veteran Warren Mendonsa's Blackstratblues with his melodic phrasing and rock riff heavy blues. His Ode to a Sunny Day, which was composed on a bleak winter day in New Zealand, is by now a well recognised event staple.
Coco Montoya former member of the Albert Collins band as well as John Mayall and the BluesBreakers, perfomed a crisp, bluesy set. Montoya is left-handed, but plays a left-handed guitar with a right-handed neck (i.e. strings upside down). His smooth, tasty licks, were highly enjoyable. He was joined by his former band leader, John Mayall to close out a well-spent evening.
Day Two on Sunday began on a high note with Walter Wolfman" Washington, an American singer and guitarist, based in New Orleans, Louisiana, United States. While his roots are in blues music, he blends in the essence of funk and R&B to create his own unique sound. With his big band sound, a flamboyant mini brass section, consisting of a trumpet player and a saxophonist, he transports you to a smoky club in New Orleans, home of great American musicians. His trademark howl is guaranteed to bring a smile to a true blues fan.
Next at the Garden area was the winner of the Mahindra Blues Hunt the Arinjoy Trio, consisting of singer/guitarist frontman Arinjoy Sarkar, Aakash Ganguly on bass and Sounak Roy on drums. Their set was tight, had some great tonal patterns and was well received by the audience.
Spotted in the crowds was renowned musician/composer Lesle Lewis deep in conversation with local bass guitarist Sheldon D'silva. Also present enjoying the show was Mumbai's famed vocalist Gary Lawyer amongst many others.
Finally, the Polka Dot parlour was the big draw of the evening and had John Mayall, the legendary English blues singer, guitarist, organist and songwriter. Mayall is the founder of John Mayall & the Bluesbreakers, a band which has counted among its members as some of the most famous blues and blues rock musicians. They include Eric Clapton, Peter Green, Mick Fleetwood, Mick Taylor, Walter Trout and Coco Montoya amongst others. A spry 84 years in age, he enthralled the audience, switching easily between the organ, guitar and with some thrilling trills and runs on the harmonica. He also mesmerized the crowd with some vocal scatting.
To close out the night, the Allstar Jam comprising John Mayall, Coco Montoya, Walter "Wolfman"Washington, Layla Zoe and Warren Mendonsa, along with some vigorous crowd chanting brought the 2018 concert to an enjoyable end.
n By Savio Miranda