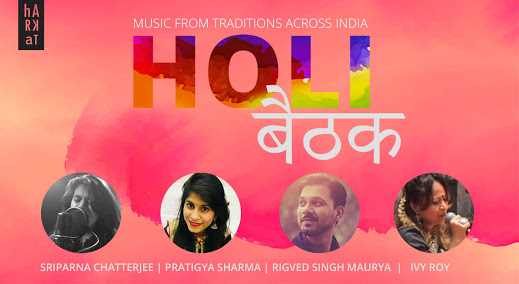 04th April, 2018
Rang Aur Raag - Holi Story
Colours…have always had a very deep association with music. Music adds colour to our lives. The Raags of Indian classical music are made up of different Swars( notes ). Imagine if each of these notes were beautiful coloured gem stones. You could pick any of these gems and create a striking necklace, following certain rules.
For example, there should be a minimum of 5 gem stones; you can repeat the same gem colour or take a variation of it but not place them together in succession ; have a basic theme running throughout the pattern; and the necklace needs to have two strings – one ascending and one descending, with some unique designs, primary and secondary colour gems. What I put acrosss to you are the basic rules of a Raag !
Incidentally, each of the seven Shudh( pure ) notes have been assigned colours. While Sa is the colour Green , Re is a fiery Red, Ga is a glorious Gold and Ma is a tranquil Ivory, Pa is a mysterious Bluish Black , Dha is a sunshine Yellow and Ni is vivaciously multi coloured.
India has always been home to various forms of art. And a wonderful amalgamation of music, poetry and painting has been done through Raagmala paintings. Raagmala literally translates into a Garland of Raags. Prevalent in the 15th to 19th centuries, the paintings depicted various facets on Indian classical Raags. Each painting embodied a colour, mood and story or poem specific to each Raag as also the time and season the Raag is meant to be sung in. It gave a visual representation of the essence of a Raag. A fine example of a Raagmala painting is of RaagBhaskar. Bhaskar means The Sun. This Raag is sung at dawn. The painting is minimalistic with no human figures - it is the time of the day before anyone has woken up , with only the Sun against the backdrop of a plain canvas - with no distractions but a meditative time with oneself ! The script on the top border describes the mood of the Raag - the serenity of the early morning.
Another colourful aspect of Indian Classical music, is the depiction of the festival of colours – Holi in most of its compositions. Hori, Thumri ,Kajri, the popular styles of semi-classical compositions for Holi and even regular Bandishes ( compositions ) , portray the antics of Krishna with Radha and the beauty of the spring season. If classical music adorned its compositions with the colours of Holi, folk music has an even greater variety to offer.
One such event that I recently witnessed was a Holi Baithak at Harkat Studios. Folk songs from Bengal, Assam, Punjab, Rajasthan and of course, Uttar Pradesh where Holi is celebrated with much fervor. The singers enthralled the audience with songs on Holi in their native languages. Ivy Roy, who comes from the Tagore lineage in Bengal, rendered timeless Rabrindra Sangeet classics like Ektuku ChoaLage, Ektuku Kotha Shuni and O Re Grihobashi Khol Dar Khol. Taking us into the beautiful Assamese culture, Rigved Singh Maurya rendered quintessential Assamese folk numbers Gokulu Maje and Jhumoor .Pratigya Sharma, all the way from Ayodhya did full justice to the Brijbhasha compositions AajBiraj Mai Holi Hai Re Rasiya and Rangi Saari Gulabi Chunariya Re that took us straight to the colourful stories of Krishna and Radha in Gokul. Giving us a variety of renditions was Sriparna Chatterjee, also the narrator of the evening. She presented a Rajasthani folk song Holi Aayi Harsaand a Punjabi Tere Naal Aaj Holi Khelani. Changing the theme of Holi from the Krishna-Radha songs, Sriparna and group presented a very enticing number Holi Khele Masane Mai from the point of view of Lord Shiva and his (in)famous Bhaang.
The Indian Classical element cannot be left out while singing about Holi. Sriparna began with the classic More Kanha Jo aaye Palatke from the movie Saradari Begum . She followed it up with a traditional Classical composition in Raag Des – Aaj Hori Re Sawariya, and added her take to it with a very contemporary twist with the second half. Rigved also awed the audience with a Kajri originally sung by Channulal Mishra ji ,Rang Daarungi Nand Ke Lalan Pe.
Just like the vivid colours of Holi make it more enchanting, the singing styles of all the performers added to the musicality of the evening. While Ivy Roy had a sweet sharp voice suited for Rabindra Sangeet ,Sriparna Chatterjee gave the renditions the power with her voice. Rigved Singh Maurya lived up to the peppy numbers he sang while Pratigya Sharma portrayed the vulnerability of Radha with her voice. Such is the magnanimity of music that it lets each artiste create masterpieces of their own.
By Ashwini Narayangaonkar-Kamath
Ashwini Narayangaonkar-Kamath is the eleventh generation of her family to be dedicated to the ancient art form of Indian classical music. As a singer she has performed in India and abroad, has music albums to her credit and successfully runs her classical music academy - Deepak Music Academy all over Mumbai.
For more details do log onto her website:
http://www.deepakmusicacademychembur.com