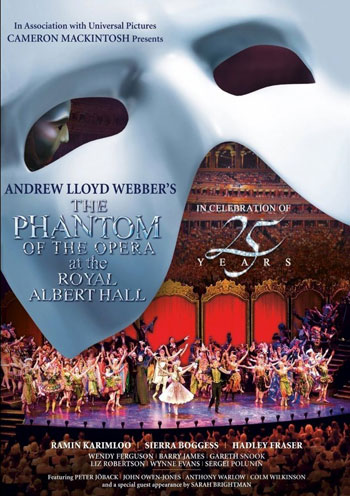 The Phantom of the Opera – Rs. 599/-
Cast:
Ramin Karimloo, Sierra Boggess, Hadley Fraser, Barry James, Gareth Snook
Music By:
Andrew Lloyd Webber
- By Verus Ferreira
To celebrate the 25th anniversary of Andrew Lloyd Webber's sensational musical
The Phantom of the Opera
, the composer and producer Cameron Mackintosh jointly decided to stage the spectacular musical at the Royal Albert Hall, London.
The duo assembled a cast of more than 130 performers and paired them with an eighty piece live orchestra to perform the complete musical. They also brought in the original technical crew to revise and reinvent the show to make it suitable for a stage production to be held in a classical concert venue with no wings and little or no room for large set pieces to fly in and out of the ceiling. Though there are vast differences in London's West End and New York's Broadway production, the costumes of the Victorian age still dazzle, the sound, simply awesome and the singers all first rate.
Our story begins when a man, deformed since birth known only as the Phantom (Ramin Karimloo) begins to hound the Paris Opera House under which he lives. While doing so he falls in love with the obscure chorus singer Christine (Sierra Boggess), and privately tutors her while terrorizing the rest of the opera house cast and demanding that Christine be given the lead role in the opera. But her secretive meetings with the Phantom meet a head-on when Christine falls in love with her childhood acquaintance Raoul (Hadley Fraser). The Phantom kidnaps her and confines her in his dungeon to serve as his eternal bride. Raoul is the only one who can stop him. Will Raoul fight the Phantom and get his beloved back?
While the curtain falls on the show and you get your answer, the legendary Lord Andrew Lloyd-Webber makes a speech paying tribute to all those who have made the production a success over the last 25 years. He is joined by the original cast on stage, including Michael Crawford and Sarah Brightman, the latter of whom then performs with four of the actors to have portrayed The Phantom.