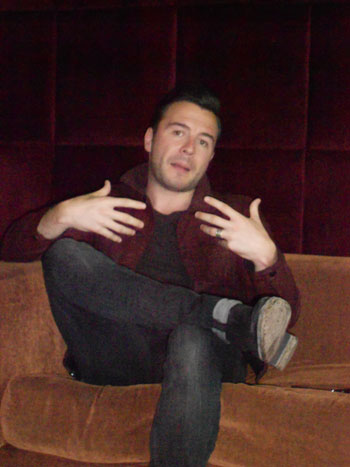 Westlife's Shane Filan moves out on his own.
He has been with Westlife for almost 13 years, but now he's starting all over again. This time as a solo artist.
Shane Filan one of the founders of Irish boy band Westlife was in town last week to release his EP, followed by his album titled
You and Me
due in November. Seated at Hard Rock Café Lower Parel, the 33 year old exclaims "
It's great to be back
". Shane who visited India with the band in 2003 for the MTV IMMIES is now married with three kids. He reveals that his new album is a personal testimony of his family and more importantly his wife.
"Life has taken a turn I guess and going solo was never on my mind at all, it was something I did not want to undertake. But then I have a family and I needed to provide for them. So I thought why not start all again. Almost all of the songs are on my wife Gillian"
explains Shane who co – wrote a couple of Westlife songs, and has now penned all the songs on the EP and also on the album while adding
"The songs are very emotional, very positive; it's trying to tell people not to worry. We all have ups and downs, but you have to be positive and move on"
.
Going back in time, Shane reminisces the days of Westlife and can't forget the good days they spent together. When questioned on the reason the band split in June last year, he stated that he felt it coming since the last two or three years.
"I knew there would be a day when we would all go our own ways, but no one knew when. We finally decided on it last year and had our last farewell concert."
Besides himself, no one from the band has thought of a solo career as yet.
"I am the only one who has made a move musically again. I have no idea what the others plan to do in the future"
says Shane adding that all the members are still in touch with one another and still meet when possible.
One of his fondest memories with the band is his meeting with Pope John Paul while on a short tour of the Vatican.
"Yeah it was sometime back. We were on a tour of Rome sometime during Christmas and we got a chance to meet the Pope. It is special for me, as I had my mum with me and she was lucky to meet and speak with the Pope. She is a very religious person. My mum got to shake his hand and got a picture with the Pope. So that I think it is one of the rare experiences I have had with the band"
he states.
On the verge of a solo career before him, Shane isn't worried about the response he will get to the album.
"Many love Westlife and I think this is an extension to the music that we made; only this time its done by one person. And as far as Asia is concerned, it's the best place for music"
he says matter of factly.
Filan met up with fans who had joined a contest on Twitter. He performed four tracks at hard Rock Cafe and literally left them asking for more. Later he mingled with them and also signed autographs and posed for pictures with them. On Wednesday the singer left for promo tours to the Far East. He has promised to be back in January after the album is released. We look forward to his visit again.
Look out for the full length interview soon.