Home
>> Interviews - International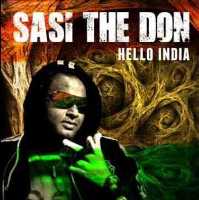 "Hello India is my journey as a reggae artist in India"- Sasi The Don
Malaysian reggae sensation, Sasi the Don recently released his first International debut that features his previous hit singles remixed and rearranged as well as several stomping new songs.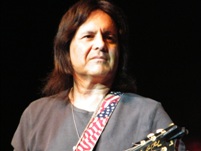 "Playing with Megadeth was a new experience for me." Mike Albert
Mike Albert, the legendary guitarist (ex - Megadeth), front man of the Mike Albert Project which he formed to evolve his playing to showcase his own sound was in Mumbai as part of the World Music band with L. Shenkar. Mike had replaced Megadeth's Chris Poland during the 1985 "Killing Is My Business... And Business Is Good" US tour. His earlier bands were the Frank Zappa produced, Ruben and the Jets and El Chicano, a Latin band.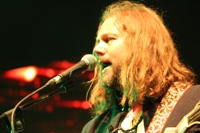 "I have made sounds on a sitar on the last Crowes record" – Rich Robinson
The Mahindra Blues Festival turned five recently. To commemorate this, the event saw six time Grammy winner Buddy Guy, yet again, alongwith New Bedford-based 15 year old sensation Quinn Sullivan (who Buddy Guy summoned on stage in 2007 and whom he is known to be mentoring), Doyle Bramhall II (best known for playing with Eric Clapton and Roger Waters), Black Crowes axeman Rich Robinson, roots bandleader Nikki Hill and Danish seven-piece Thorbjørn Risager & The Black Tornado. The Indian contingent featured Warren Mendonsa, The Mahindra Blues Show and The True School Blues Experience. At an exclusive meet and greet a day prior to the festival, we managed to meet up with Rich Richardson to know about his band The Black Crowes and his love for the blues. Here are excerpts from the exclusive.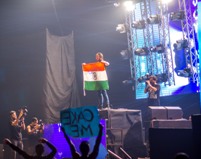 "I shall explore Bollywood if I get a chance" – Steve Aoki
EDM whiz Steve Aoki, who gave the world a crazy new way of indulging in cake and champagne, returned to India for a three city tour with Vh1 Supersonic Arcade. EDM fans got a chance to watch Steve Aoki perform live on 16th January in Mumbai, 17th January in Delhi and 18th January in Bangalore.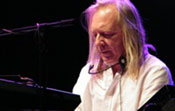 "I want to get into the deep of India". Deep Forest' Eric Mouquet
Soft spoken, Eric Mouquet is every bit a Frenchman blond, blue eyed, charming accent, et al. Eric has been to India many times before. He came to Mumbai last year (November) for Banyan Tree's Milan - Maestros in Harmony - Rahul Sharma and Eric Mouquet concert. This was his third visit.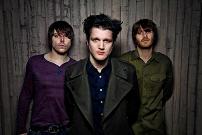 "I'm really looking forward to experiencing India as a country": The Virginmarys.
Following hot on the release of debut 'King Of Conflict' (released on 4th February 2013) the three piece Brit band The Virginmarys is a name that has been cropping up all over the globe in the last few months with many recommending to hear them out. The Virginmarys are a three-piece rock band from Macclesfield, England and consists of members with Ally Dickaty as the lead vocalist, Danny Dolan on drums and Matt Rose on Bass.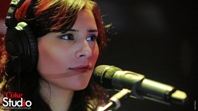 "My album is all about the all about the angst of growing up" Zoe Viccaji
Pakistani Pop sensation Zoe Viccaji who made her debut as a playback singer in Coke Studio's. She has sung many songs which include some English and Urdu songs. She has also worked with the immensely popular Pakistani rock band Stings.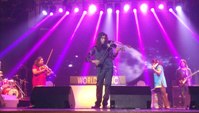 "The double necked violin has a full orchestral range" – L. Shenkar
Global Community of India and InSync (A 24 hour classical music TV classical channel) recently brought down World Music and Grammy winning music artist Violinist L Shenkar in Mumbai who performed with his 10 string stereophonic Double Violin on Sunday 9th November 2014 at Sri Shanmukhananda Auditorium, Mumbai.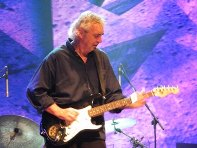 "I'm not a musician, I'm only a guitarist" – Mick Clarke.
Britain's legendary blues artists 'The Mick Clarke Band' premiered in India exclusively with Simply The Blues. Considered as one of the finest blues guitarists to come out of UK, Mick Clarke with his band, performed in India for the first time as part of the 3rd edition of Simply The Blues music festival, organized by StarKonnect Events and Promotions.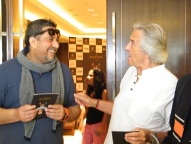 Indian classical and jazz music is more of a collective experience than collaboration: John McLaughlin
Recently in the city to perform at Black Dog Easy Evening concert, the legendary John McLaughlin of The 4th Dimension spoke at length about his journey in soulful tunes and the present scenario of Jazz music in India and abroad. He was joined by keyboardist and drummer Gary Husband, Drummer Ranjit Barot and bassist Etienne M'Bappe, who together make up The 4th Dimension.