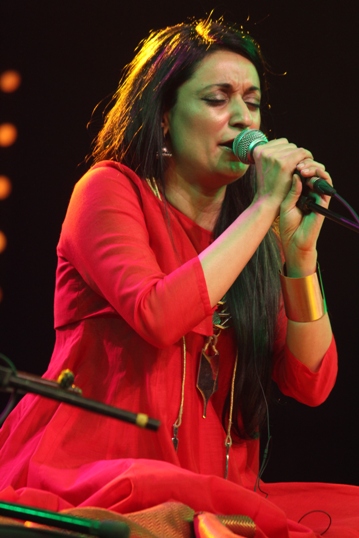 13th December, 2017
Gospel Truths – Sonam Kalra and the Sufi Gospel Project
Given the kind of music on the contemporary gospel scene today, infused with rap, dance beats and rock, the soothing and angelic vocals of Sonam Kalra and The Sufi Gospel Project bring an interdenominational, intergenerational and a new musical expression to this vast landscape of music. As founder, and spiritual bellwether for the group, Sonam Kalra combines western gospel music with Indian classical sound in The Sufi Gospel Project.
When Sufi icon Amir Khusrau's words resound with Amazing Grace, Kabir's poetry shares the stage with Abide With Me and Bulleh Shah's melodies are interspersed with English and Gaelic texts, you know you are listening to something extraordinarily special. The idea of the Sufi Gospel Project began in 2011 when the Delhi-born Sikh-raised Kalra was invited to sing gospel at the dargah of the Sufi saint Inayat Khan in Nizamuddin in Delhi.
Verus Ferreira spoke with Kalra to go much deeper on how this whole concept came about and her latest performance this weekend.
Being from the Sikh community, how did you overcome the obstacles to sing songs from other religions Muslim and Christian and form The Sufi Gospel Project?
The Sufi Gospel Project is an attempt to blend the many voices of faith through poetry, prayer and music and try and create one universal voice of faith. I had been singing gospel music for years, and the one question I would always be asked is, 'why does a girl who belongs to the Sikh religion sing Christian Devotional music?' And my answer was always the same, which is, that God has no religion. The idea to create The Sufi Gospel Project came about when I was asked to sing Gospel at The Dargah of Sufi Saint Inayat Khan a few years ago. The thought of a Sikh girl singing Christian music in a seemingly Islamic space made me feel that I was being given an opportunity to do something special and I needed to do something befitting of this opportunity. That's why I created music that blended the many voices of faith together and blurred the lines between religions to try and show that we are all calling out to the same God but in different ways. The aim of my music is to help people realise that each of us has our own truth, whether it be in a temple, a mosque or a church but most importantly, that each truth is just as valid.
Tell us something about your childhood days and your musical upbringing? How did your interest in music come about? Who inspired you to take it up?
For as long as I can remember there has always been music in our house. My oldest memory is of me, sitting on my mother's lap listening to Begum Akhtar. There was a certain calm, a surrender almost, a deep emotion that would be apparent on my mother's face when she listened to music. Listening to music was something we always did together. Both my parents had great taste in music, they listened to a wide range of musical styles from Begum Akhtar, Kishori Amonkar, Bhimsen Joshi, Pt. Kumar Gandharva, Abida Parveen, Nusrat Fateh Ali Khan and Farida Khanum to Ella Fitzgerald, Nina Simone, Frank Sinatra and Louis Armstrong to Harry Belafonte and old Hindi film music, we heard it all playing in our home.
Did you take any music lessons in vocal training?
I have trained in Indian classical music under Shubha Mudgal and Sarathi Chatterjee and have also studied varied genres of Western music including gospel and jazz under gospel singer Ashley Clement in Singapore, as well as classical opera under the noted tenor, Hur Chul Young.
Who are your accompaniments who play in The Sufi Gospel Project?
I work with a keyboard player who is Christian, my accompanists on the Sarangi and Tabla are Muslim, and my flautist and percussionist are Hindus, a testament that when it comes to faith and music, religion is not relevant. The music emerges through a collaborative and organic process, combining our musical abilities and collective improvisation and feeding off our diverse beliefs.
Have you done any original compositions?
I write and compose a lot of my music. There's Bol and Man Manam (for MTV Coke Studio) that has an Indian classical sound, a portion of it has a gospel quality to it and it also blends the use of the spoken word. Even if I sing traditional poetry, the compositions are all original and so are the arrangements. If you listen to my music, you'll find a blend of the many influences I've been exposed to. Hallelujah is taken from the jazz genre and I've blended it with Indian classical instruments. In other songs, Khusrau blends with Amazing Grace, Kabir Das shares the stage with Abide with Me and Baba Bulleh Shah's poetry resonates in the sound of Irish music.
Your video Bol is inspirational and urges people to raise their voices against injustice and violence. What was the stimulus for it?
I came across a poem by poet Faiz Ahmad Faiz who urged us through his words to use our voices to make a change. The biggest crime we can commit is to watch injustice silently and not do anything about it. This is the reason I composed Bol two years ago on Independence Day, and also sang it for the Sound of Freedom Concert that Bob Geldof was a part of and for One Billion Rising. I have added a chorus to it that says, "...let us use our voice against injustice and speak out against suppression." The power of our collective voices is stronger than individual voices when we want to make a change. I was so fortunate to be able to perform Bol in Lahore when Faiz Sahab's daughter invited me to sing at the first Faiz Peace Festival.
That was surely an honour. You are one of the few Indians to have performed at the Sydney Opera House and The Pyramids. How do you feel?
Honestly, it's been just incredible. Each and every performance has been a special experience for me, because each venue, each audience is a gift as far as I'm concerned. Performing at The Sydney Opera House along with 40 members of the Australian Choir, at the Pyramids, at Muzaffar Ali's Jahan-e-Khusrau World Sufi Festival on the same stage as the legendary Abida Parveen or even for MTV Coke Studio, have been beyond my wildest dreams, but they have encouraged me to reach higher, work harder and understand the responsibility I have with my music and to my audience. I am grateful every second of my life for the gift of music. One of my most special moments ever was at the end of one of my shows when the voice of an elderly lady said, "My child, straight from your lips to God's heart."
That's wonderful. So I'm sure you might have also won laurels for your work? So what are your plans for the future?
There's lots of new material coming up. My latest performance is Partition: Stories of Separation, which has 5 new songs, composed by me which are based on the poetry of Poets of the erstwhile Punjab. There is song written by me and my friend Deepak Ramola. I recently also lent my voice to a song written by Nobel Laureate Kailash Satyarthi for his ongoing Bharat Yatra to make India a safe country for her children..
Watch Sonam Kalra and The Sufi Gospel Project perform live at:
Event: Partition: Stories of Separation
Venue: Experimental Theatre, NCPA
Day and Date: Sunday, 7 pm December 17