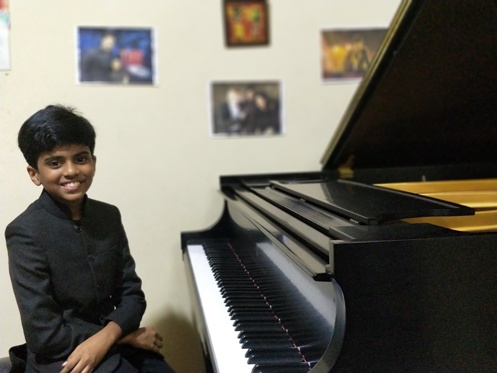 04th April, 2018
Small Wonder - Lydian Nadhaswaram
12 year old child prodigy, Lydian Nadhaswaram is a Chennai based pianist to watch out for, and though his fingers are not big enough to reach the octaves, his piano-playing ability will leave you stumped, especially when you hear him play the fastest and the toughest western classical pieces. This is something we have never seen or heard before. A young Bach, Mozart or Debussy in the making, this young boy's control and composure on the piano makes you wonder if he's on the same page with them. Sometime back he was gifted a baby Grand Steinway piano by Michael and Sukey Novogratz who heard him play just once. In November 2017, Nadhaswaram appeared on the Susana Giménez TV show in Argentina, viewed by millions in South America, and often compared to America's The Oprah Winfrey Show.
Verus Ferreira had a telephonic chat with Lydian and his father Satish.
So tell us how did Lydian start off his musical career at such a young age? He also has a musical surname.
Satish: Yes I chose this name as Lydian Mode is the first mode of scale in music invention. When I heard from my mother that a boy is born to us, I was at my theory class learning about the Lydian Mode Scale, so the first name that came to my mind was Lydian and I chose it. Nadhaswaram is an ancient instrument of South India which is a very tough instrument among the wind instruments and among the entire world for sure. So I chose the name Nadhaswaram in which 'Nadham' means beat or feel and 'swaram' means sur. Put his name together and we named him Lydian Nadhaswaram.
Can you tell us something about your family and how musically connected you all are?
Satish: I am a self taught musician, but none of my family was into music. I married Jhansi who had no knowledge and interest in music. My feelings to the late entry into this field, made me to think about my children, who can start their career when they are very young and so my dreams started towards nourishing my children into music.
Satish, when was the first time you realised that Lydian could play a musical instrument?
Satish: When Lydian was two years two months, we were at a party when he suddenly took a xylophone plastic stick and played it on the floor in proper rhythm which amazed everyone in our house. That day I decided to buy a drum set and I bought a kid drum set even before the day ended. As he progressed, I bought more and more instruments for him so that he could get a feel of the sound each brought out.
That's amazing. Lydian also plays the guitar, mrudangam and tabla. How did he master these instruments?
Satish: I started the tabla in first grade in KM Music Conservatory (A R Rehman Foundation), later he continued his Russian piano method from KM Conservatory and hence he learnt tabla further from a experienced master named Thulasi. Lydian has incredible tempo knowledge. So it has become an easy task for him to play the tabla in recordings for his father along with a few senior tabla players.
How did he learn the patterns of Carnatic music and also play on a western music drum set?
Satish: It is the bols that are used in tabla and mridangam lessons which is applied to drums whenever possible, apart from western drumming style. This method is followed by so many drummers already. Legendary drummer Sivamani has an incredible talent of playing bols in drums. Being a well wisher and an inspiration Lydian started doing this even playing multi times signature at one time in his drum performance. Each hand, each leg, with a different time signature. This is a rare talent which Lydian can play at ease.
Your daughter also plays the piano; we learn that Lydian picked up the skill to play the piano from her?
Satish: A piano was bought for his sister Amirthavarshini, the name is the name of a raag in Carnatic music. Amirthavarshini is a vocalist cum flautist. When she was doing her third grade, Lydian started playing the piano as the pieces that his sister was playing at home was registered in his mind. He just started playing the pieces by hearing her play; there were no chords or anything. So our days have started with two piano players in the house.
Lydian learnt the basics of drumming from Maynard Grant? What did Grant actually teach him?
Satish: Yes I took him to 'Pro Music Drum School' where Maynard Grant is a tutor. Initially Maynard hesitated to teach such a young student, but when Lydian demonstrated some patterns in drums, then and there the master accepted Lydian. Maynard had a close relationship with Lydian and taught him not only the drums, but also discipline and morals too. Maynard accepted Lydian to be with him the full day, in order to teach him Maths, Science, and spoken English too. Infact Maynard is so kind with Lydian and encourages him the most.
Lydian plays Beethoven's "Moonlight Sonata," Third Movement; Rimsky-Korsakov's "The Flight of the Bumblebee." How did he learn these melodies and master the keys without a score sheet?
Satish: Moonlight Sonata and Bumble Bee was a challenge given to Lydian by me. Knowing his incredible hearing knowledge, I told him that if he could complete the Bumble Bee in five days, then I would give him a gift of a drum Splash (cymbal) which he wanted for his drum set. So Lydian being excited about the drum Splash completed learning the Bumble Bee off the YouTube videos. He got the Splash as a gift soon after. Similarly I showed Moonlight Sonata as a guitar version to Lydian. Later the piano version was found and I asked him to finish learning it in a week's time. But Lydian took only two days to master this tune. Those days are the golden days when everyone was amazed by his incredible hearing sense. Later we found that Lydian has an incredible knowledge of perfect pitch, so with this he can easily identify the notes and the chords and harmonies. Later, every music score was learnt properly with the sheet music which was guided by his sister Amirthavarshini.
So now Lydian let's hear you answer this question. Since you play so much of classical music on the piano, who is your favourite composer and why?
Lydian: I love Beethoven and Mozart.
You and your sister play a lot of music together. Can you tell us the friendly music you both do together?
Lydian: My sister is my best friend and a gift of mine. She is my best guide and guides me very well, not only in music, but also in cleanliness, discipline, humbleness and almost every aspect, including the dress code.
Satish: They both play like normal children, but no fights honestly. Lydian and Amirthavarshini are so passionate in doing dubbing for animation movies, which has already released in Hollywood. They both note the original soundtrack of the movie and give their dubbing and music and their sound effects. This practise was initiated by me.
You have a lot in common with classical music composer Mozart. He played multiple instruments, he played blindfolded, he was home schooled and also played music at an early age. Coincidence or what?
Satish: Many well wishers and friends of Lydian often say he is the re - incarnation of great composers like Mozart and Beethoven. But in my opinion, as there are similarities matching with Mozart, Lydian can be so.....as Lydian loves Mozart the most.
So Lydian, from drums to piano to other instruments, which is your favourite instrument to showcase your talent?
Lydian: The piano makes me very happy as I can play it even blindfolded which makes the spectators surprised. But also love my drums too.
What do you do besides music... hobbies?
Lydian: Besides music I like doing dubbing, driving cars, and collecting various toy cars, photography, cricket and that too inside our house, collecting all my boarding passes and playing with my parents and sister. I also love reading the dictionary to learn new languages.