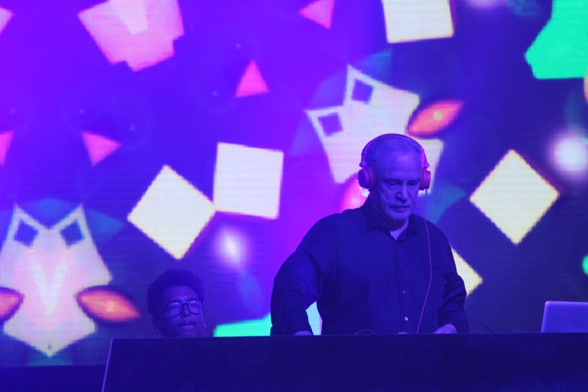 19th June, 2016
"The last song you do is always your best" – Giorgio Moroder
Italian music producer, songwriter, performer and DJ Giovanni Giorgio Moroder, better known to the world just as Giorgio Moroder is credited as the Godfather of Disco. He created hits for the likes of Donna Summer (Bad Girls, Last Dance, Love to Love you Baby, Hot Stuff) to creating some of the best electronic disco hits for The Three Degrees, Irene Cara, to fabulous music soundtracks like Midnight Express, Flashdance, Top Gun and many others.
Moroder also contributed to Daft Punk's 2013 studio album 'Radom Access Memories', admitting that he was a fan of their song One More Time before working with the group. He has also released his official remix of Coldplay's Midnight from their album 'Ghost Stories'. He recently released his latest album 'Déjà vu' which features collaborations with Kylie Minogue, Britney Spears, SIA, and Charli XCX
Giorgio was in Mumbai last year for Johnnie Walker The Journey. We catch up with his journey of his life, music and his movies in a freewheeling interview.
How did you choose whether to wake up and write your architecture exam or to stay in bed and become a musician?
That was the hardest decision I have made, I once stayed at my friend's house and asked his mother to wake me up at 8 the next day for my exam. I woke up at 8, but I said I was going back to sleep, so I would have had to redo the whole year. I was offered a chance to become a musician, and that's how my journey began, I toured Europe for the next 7-8 years.
It must have taken a lot of courage to defy your parents regarding your life career?
Yes indeed it was, they weren't too happy for the first two or three years, however after my first hit single they thought that it was 'okay. After I had my first hit in Germany, then in Italy and finally in England, then they thought, maybe he is doing okay and they thought it was good. It still took many years for them to adjust to it, and even now my mom says that what I do is good, but it would be better if I was home with a more secure job. But then I invited her for a vacation to California and after that she definitely approved it.
How old were you then when you started off?
I was about 19 years and I started off in Sweden and moved over to Berlin, then to Munich and then I moved around and finally had my first hit with Donna Summer and yeah that was it.
So how did your link up with musicals come about and then films?
When the song was released it became a big hit and it caught the ear of a big British music director who was directing 'Midnight Express'. He asked me to write the music score for the movie. There is a scene where the guy runs away and so I wrote a song called The Chase, and so that was my entry into the film business. From there it went on to 'American Gigolo' where I had the hit with Blondie called Call Me, then came Scarface e with Bowie doing the main song, then I did a song with David Bowie for a movie called 'Cat People', then I did a few smaller films and then once again the big one was Flashdance, and after that 'Top Gun' with the song Take my Breath away.
I've heard if there's one thing you wanna do in your career it is to write a musical?
Yes, I did start to write, but due to some problem with the lawyers I couldn't get the rights, so I had to cancel it. Some of my friends did it and it came out a few years ago.
Can you tell us something about Studio 54?
Studio 54 was really big at that time. But I can't tell you much because I was living in Los Angeles at the time.
"DJing is not that difficult". What would you say to a comment like that?
Well while DJing if you just play one song after another then it's relatively easy, but if you want to do great combinations of sounds and build-up, then it becomes quite difficult. Technically, it is good nowadays. And I noticed that for me it was relatively easy, I started about two years ago, it was relatively easy because I was in the studio all my life, I've mixed hundreds of songs so musically it's easy for me, but technically, just have to learn the problems. But a lot has to do with experiences, I remember when I started I did some major mistakes, did a lot of mistakes and I learnt from these mistakes, now I just do small mistakes.
So you have spent years making disco music, how often do you visit the disco?
I hardly really visit the discotheque; I don't love to dance actually, really. My wife is a good dancer and she loves to go dancing to these places.
Is there such a day for an artist or a musician to ever be ahead of the time? Say you're a producer and you've got your sound and you're so sure that this is the sound of the future, you play it and the audience is just not that into it, what do you do at that point of time?
I've never really thought or felt that this is a new song or this is the new future and it's like the last song you do is always the best, like you propose a song today, you listen to it tomorrow and you think this is my best song, which is most of the time wrong, so to think you've found the song which you could play in ten years, that is very difficult.
If I would ask you then or now, when was the most exhilarating 'feeling the love moment' for you when you quit performing on stage?
Well, first of all to perform in front of a thousand people is very tight. But I must say the biggest sway was when I performed a few months ago in London, Radio one or Two BBC, in front fifty five thousand and it was an incredible evening. We had Leona Lewis, Bryan Adams then I came in, the Kinks, then Rod Stewart, so it was really incredibly enormous crowd like fifty – five thousand people. That I think was my biggest DJ gig I think.
So how Daft Punk brought you back, was that a surprise for you or?
Well they just called me one day and asked if I wanted to work with them on their new album so and I said yes because I loved them and I didn't hear anything and that time I was living in Paris and they said "Well okay come to the studio and lets work". So I went to the studio thinking okay now they want me to compose a song, but they said no, they just wanted me to tell the story of my life. So I spoke for about two hours and then they went missing for the next six months and I didn't have a clue about what they wanted to do. Finally, they played the song to me and it's basically my voice telling the story of my life with the music of Daft Punk and it was quite emotional actually the first time and a bit embarrassing too hearing yourself talking, when I was fifteen or when I was sixteen. It was about 9 minutes so it was really long, but it was really great to do it. But I had one great sentence "My name is Giovanni Giorgio, but you can call me Giorgio!" The song on their album Random Access Memories is Giorgio by Moroder.
What is your inspiration for making music for films and making music for 'Midnight Express'.
I got into the film industry to compose music through this film 'Midnight Express', In the film industry all the musicians are all classically trained, in keyboards, drums, and so I am a bit busy now, as I just completed my album which came out just six months ago, am also doing Deejaying and also other work and so I am not sure if I would be going back to films. I also have an upcoming TV serial in 2016, so I am busy with that, it is 13 episodes. If any producer in India invites me then I can consider to do some work here.
Interviewed by Verus Ferreira
Photos by Verus Ferreira