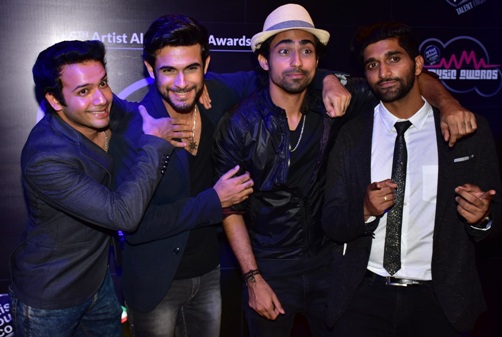 15th November, 2016
"The word Sanam is used in countless Bollywood songs and is directly connected to Indian music." Sanam
Fusing their own brand of energy with some incredible melodies, pop boy band Sanam has reached an impressive peak in 2015. The group of 4 consisting of Venky S on bass, Samar Puri on guitars, Keshav Dhanraj on drums and frontman Sanam Puri have become the biggest music sensation in India.
The band's YouTube channel has surpassed a staggering 11 million views per month and 100 million lifetime views. This clearly puts them on top of the leaderboard not only in terms of Music artists but also across popular genres like comedy. Subscribers to their channel and fans on their Facebook page have also grown aggressively crossing over a million cumulatively. Know for their versatilty, the band sings not only cover songs of other artists, but have a solid base of their own songs too. Sanam also records in English, even though its only covers. Watch Sanam Puri's take on Sam Smith I'm not the only one or even the Christmas classic, Mary did you know.
Qyuki, signed Sanam Band over a year ago and worked closely with them providing technology, media, rights management and production support to help drive the massive surge in growth and fandom for India's #FAB4.
Verus Ferreira met up with band at a recent music event in Mumbai to know more about the journey of the band.
How did each of you begin your rendezvous with music?
Venky S: I watched a lot of MTV and Channel V while growing up in the early 90's, that meant watching music videos of Queen, Michael Jackson, Guns N' Roses, Take That, Boyz II Men, Whitney, Mariah, Nirvana, and a few others. Indipop was at its peak on TV; my mum loved watching Hindi movies so I used to watch them with her and in turn got to listen to many popular Bollywood songs.
Keshav Dhanraj: My brother Arjun Dhanraj was always into music. I was first introduced to music he listened to and also started my first band with him. After that, I began to explore different instruments and different styles of music. I learnt by going for concerts and watching other musicians perform.
Samar Puri: Music was always there. All credit goes to my parents. They have always supported me and Sanam.
Sanam Puri: Both Samar and I started off together by composing songs for mom and dad whenever we felt like surprising them. This was at the age of 6-7. Since then a lot has happened in music like competitions, shows, forced singing in parties where mom and dad would tell everyone Samar and Sanam sing. Also I started learning to play the keyboard and have been composing a lot since childhood. I used to listen to a lot of pop music like Westlife, Nsync and slowly cut down on listening to artists and concentrated more on composing music.
You are originally from Muscat, how the shift to India?
Venky S: Samar and I were batchmates in Indian School Muscat. Both of us played guitar so we started a band together and got his younger brother (Sanam Puri) to join cause he was a singer. We learnt to jam on Green Day, The Ramones, Busted, Bon Jovi, Metallica. The three of us moved to India to study in college. Sanam Puri became active in the college rock circuit in Delhi by performing in bands like Decibel and Bandish. He was also winning best vocalist title in many competitions. Samar had started to write original songs in Hindi and some of Samar-Sanam's songs written in this period, songs like Badalne Ke Intezaar Mein were well received. I was active in Bangalore and took up bass playing with bands like Soundproof, Haven and Chronic Blues Circus. I sang acapella in college and started performing swing/jazz and pop standards regularly at different clubs. I also hosted karaoke and was working with an events management company.
Keshav Dhanraj: I was the drummer of 'Nerverek' and 'Buzz Theory' (based in Chennai) and we met through the college rock circuit. We eventually formed an alternative rock outfit called 'The Previous Band'. I used to travel to Chennai and enjoyed the process of writing songs. Unfortunately we had a short stint as a band playing just 4-5 gigs as 2 band members joined Musicians Institute in LA, California for a music education and another member enrolled SAE in Byron Bay. In 2009, Samar and Sanam moved to Mumbai to pursue a music career.
Venky S: Keshav also moved to Mumbai to take up a job with Furtados as their Brand managerfor Zildjian, Evans and Pearl drums. I connected the three of them and had a feeling that they would hit it off because of their love for pop and alternative rock.
You guys were also winners of a talent hunt contest in Mumbai and had a band called SQS Project ? Can you tell us something about it.
Samar Puri: After Venky S introduced us to Keshav Dhanraj, things started to click while we jammed in his garage. To take this forward, we had a few options presented in front of us. Bollywood being one of them, the other was to make independent music. We had long discussions about this and decided to try and make it as a successful independent band in India. This was obviously a longer and harder route to take, but this is where our hearts lay. So we put aside the Bollywood assignment and took part in Times Music's Supastars contest. Over 1600 bands across India took part in this contest. We ended up winning.
What was the prize winning deal you got and what did you learn from winning the contest and how did you move on from there?
Keshav Dhanraj: After winning the Supastars contest, we were offered an exclusive three-year recording deal with One album with Times Music. During this time, we got to work with a few Swedish producers from the company Hitworks on songs like Hawa Hawa Tumse, and also had our song Behka (written by Samar Puri), produced by the band Bombay Rockers. This was our first studio experience, where we spent an entire month in Kailasa Studios along with Aditya Pushkarna as our producer while working on songs for the album. We got a taste of the industry which was essential to our growth. As part of the contract, we had to use the word Supastars in the name of the band. That's how SQS Project became SQS Supastars, which we changed to Sanam as soon as the contract was over.
You also released a few music videos. Comment.
Sanam Puri: The record label released two of our songs Hawa Hawa and Behka as music videos. We had a great time shooting these videos and there was a lot of fun and energy on set. We even had to shoot in a clothing apparel store as part of a branded tie up with Mufti. The video director Shivraj Santhakumar was very innovative with his use of the space in the store and we got interested in a lot of aspects during this process. It motivated us to release many of our own music videos in the future.
From SQS Project to Sanam, how this happen?
Venky S: We realized that our band name 'SQS Project' wasn't co-relating to the kind of music we were putting out. After our contract with Times Music ended, we decided to start afresh and start strong. But first we needed a band name that people could relate to our music, our personalities and also be something we are all collectively happy with. So we tried to come up with names that had something to do with love.
How did Sanam come about?
Keshav Dhanraj: Over a period of a week or so, we discussed roughly 200 band names. None of them fit in with the kind of music we made and also, we were not happy or satisfied with any of them. We tried the usual acronyms using the initials our names. This process was funny and stressful. We came up with some hilarious names but at the end, nothing worked. We tried adding each of our names along with other words as well, to make some fun combinations, during one of these sessions, we realized that the word Sanam was absolutely perfect for our band. Sanam meaning 'Beloved' or used as a term of endearment, connects with each of our personalities and the music we make. The word Sanam is used in countless Bollywood songs and is directly connected to Indian music. Sanam is also a word commonly used in languages like Urdu, Arabic, Thai, so it connects to a larger audience. Our lead singer (the voice of the band Sanam) is named Sanam Puri. So the music we make as Sanam has a direct connect to the audience. Everything about this name just worked. We changed our band name to Sanam and have not looked back ever since.
Was it a concerted effort to use your name (Sanam) for the band?
Sanam Puri: Yes, we discussed hundreds of bandnames together before we named our band. This was a hard decision to make in a Bollywood singer oriented country, because it could take away from the band culture we wish to create. However, we knew that each of us would put in all our efforts to make sure we move in the right direction and grow stronger each day. So we were confident about this collective decision. Our 5th member Ben Thomas (our manager) also plays an important role behind the scenes. We often get our confidence and strength from him. This decision was collectively made by all 5 of us after days of discussions over pros and cons.
You are more into the love music kind of genre. What makes you do such songs?
Samar Puri: I guess we're all loveable people. We like the melodies associated with love songs and its something that we sound good on. However, the songs we decide to put out are always the ones we enjoy working on. We don't decide based on the genre of the song. If we like the song and think that this is something we would enjoy working on, we go for it.
You have worked with some top Bollywood singers, how did this come about?
Sanam Puri: Our manager Ben Thomas used to manage some of India's top artists for many years, namely Sonu Nigam, Vishal - Shekhar and many others. And he introduced us to Vishal – Shekhar, we visited their studio and sang our song Teri Aankhon Se for them. They loved it and coincidently they had a few songs that they felt would really suit my voice. They used my voice for songs like Dhat Teri Ki (from the movie 'Gori Teri Pyaar Mein') and Ishq Bulaava (from the movie 'Hasee Toh Phasee').
What songs have you recorded and which films?
Besides these, we have done Barbaad Raat (from the movie 'Humshakals'), Lucky Tonight (from the movie 'Ishk Actually'), E Kadha (fromt the telugu movie 'Chandamama Kathalu'),
How many members are in the band and who does the songwriting and compositions.
Samar Puri: On screen we are a four member band. Venky S plays bass guitar, Keshav Dhanraj plays drums/percussion, Sanam Puri is the lead vocalist and I play the guitars. I have written the lyrics for lot of our songs in the past. We also work with a few other lyricists like Siddhant Kaushal who wrote the lyrics of our original song Garmi Di Tu. All four of us compose and produce the music you hear. When it comes to production, we play different roles on different songs. We consider our manager Ben Thomas as our fifth member. Very few people understand the importance of the right management when it comes to the music business. All five of us collectively work on the creative decisions and the business decisions. So I would say we are a family of five.
Have you guys come out with any album?
Venky S: 'SQS Supastars' with Times Music and 'Samar Sanam' with Saregama. We're focusing on releasing singles at the moment because a lot of music consumption is audiovisual these days and we would like to release all songs in that format. In an album format some important songs go unnoticed if we don't release them as a video.
Do you plan to one day go solo and make a career on your own?
Sanam Puri: I love that we get to spend a lot of time together, having a lot of fun and making music. Even if one member is missing from this family of 5 we feel very low and incomplete. Why leave a family that you love and go solo?
There has never been a boy band in India, what do you think to have one now?
Keshav Dhanraj: Well, artists like Viva, Asma and Band of Boys were quite popular on TV. We hope that people will continue to listen and share our music as we aspire to put out good music regardless of us being a boy band, a pop group or a rock band.
What do you think of the international boy bands like 1D, The Wanted, The Vamps?
Sanam Puri: They are all great acts. A lot of efforts go into making groups like these work. The world is filled with such great talent. We hope to see lots of new talent from India getting recognized worldwide soon!
Your YouTube channel has surpassed 11 million views per month and 100 million lifetime views. Comment.
Venky S: Samar had just finished editing the video of our original Teri Aankhon Se when we decided to create a YouTube channel and upload it. The video fared pretty well. Since we were contractually obligated, we could not independently put out any new originals at the time. YouTube looked like the best platform to release singles, so we uploaded our first cover on the channel titled Jee Le Zara. We felt the pulse picking up and we came up with a rendition of the classic Lag Jaa Gale. The response encouraged us to focus on retro renditions as it helped our channel grow and reach audiences which we didn't have before we've gotten several messages from our viewers saying that these videos are being watched in their houses in different parts of the world; that it has helped in bridging the generation gap by promoting bonding amongst family members of all ages. Ben Thomas has also been instrumental in keeping us productive and helping us maintain consistency in our video releases. We can't always predict which song will work but we can do our bit by making good music and hoping people will like it. For example our version of the song Duaa which was a duet featuring the singer Sanah Moidutty has over 11 million views. Qyuki has also helped amplify our reach by targeting right audiences in the digital space.
How was it meeting your fans and interacting with them at the YouTube fanfest?
Keshav Dhanraj: It was the best. There are so many young girls and boys who watch YouTube on a daily basis and follow us unconditionally. It's important to be aware of who your viewers are and make sure that they feel loved at events like these. Some of them came from different parts of the country to meet us. Since were given a short slot to perform for, we put together a medley of our popular songs for all our fans and the response was great. We get so much love and support from our fans and encourage them to extend this same love to everyone around them as well.
Where have you guys performed for live shows?
Samar Puri: We perform regularly all over the world. India is the most common of course, but we do plenty of international shows as well. The response we have gotten in places like Mauritius, Maldives, Dubai, Dhaka, has been humbling. We are motivated to work harder and make every concert a step higher than the previous one.
Any music videos done?
Sanam Puri: Yes, we are working on some new original music these days. We hope to share them with you all soon!
So what does the future hold for you?
Venky S: Our focus this year is to release more original music videos. We strive to make our songs popular through our sound as an independent band. Sony Music had approached Sanam Puri in 2014 to compose a track for the India release of 'The Amazing Spider-Man 2'. He composed the song overnight and asked Samar to write the lyrics for it. The label liked the song so we carried on with it. I dubbed my bass parts and the rest of us put down our parts and helped arranging the song. Manoj Yadav was roped in to complete writing the lyrics for the song which was titled Main Hoon. A music video of the song played before the feature presentation at all theatres in India including the dubbed versions.
Message to the fans?
Sanam Puri: Listen to our music and keep the faith. We love you.
Interviewed by Verus Ferreira