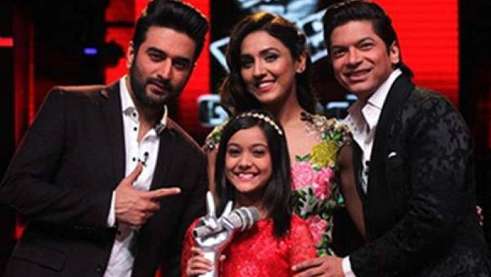 01st July, 2017
Little Wonder - Nishtha Sharma
Nishtha Sharma from Uttar Pradesh lifted the winner's trophy in the first edition of famous children's singing reality show 'The Voice India Kids'.
With show mentors Shaan, Neeti Mohan and music director Shekhar Ravjiani, The Voice India kids had begun with nothing less than 94 contestants from different regions from India.
Based on the talent, 18 kids were handpicked by mentors competing to win the show. Elimination of contestants every week from the show was based on the audience votes.
From amongst the six finalists, three contestants from Team Neeti (Kavya Limaye, Vishwaprasad and Nishtha), two contestants from Team Shaan (Pooja Insa and Priyanshi Sharma) and one contestant from Team Shekhar (Shreya Basu) contested for the title.
Upon winning the show, Nishtha has been handed over a check of Rs 25 lakh and a singing contract with the Universal music company.
The runner ups Pooja and Kavya have been awarded with Rs 10 lakh each.
Congrats on your win. It has been a tiring 18 weeks. What was going on in your mind during the show and when you were finally announced winner?
Well, it was a mixed feeling of happiness and nervousness. I enjoyed my journey on the show and have realised that every time you get nervous, it would reflect on your performance. I have never been in the voting zone ever, and if at all I have, it was a part of the journey. Apart from that, I've never stressed about my performances I've tried to enjoy them to the most. When they announced my name as a winner, I could not believe they had taken my name! It was a surprise to me. It was worth all the effort and the sacrifices I made for the show.
What do you think was the selling point in your performance, that got you the title and struck a note with the judges?
I guess it was my classical background. The show had given me a title of 'Sargam Queen' and I guess that's what it was. I always preferred classical more and I always got a classically inclined song. Neeti ma'am (Neeti Mohan) would always pick out songs that had a classical touch to it. I guess the audiences loved the whole idea of a 10-year-old singing classical songs. That is what I believe has eventually led to my win.
Who do you think was your biggest competitor in the show?
It was Mishtididi and Shreya Basu from Shekar sir's team.
You have shot a beautiful music video. How did you come with this song and its concept?
Firstly, thank you so much for appreciating the video. This album is related to my life after the Voice India kids and it's about my love for nature. Its everything that I love is brought together in this song. It also demonstrates the importance of music in my life and I guess that's how we came up the whole idea of the song.
You came from a musically inclined family. How did you develop interest in music, was it through singing or playing an instrument?
It was actually through singing. My parents were radio and television artists and they also performed at live concerts and every time I saw them perform, I wanted to be where they were. My parents and my brother have together trained me and made me what I am today. They inspired me to begin singing in the first place. Post that I began learning some instruments too.
How did you manage your academics while also singing for the show?
Studies have always been my priority and I enjoy studying a lot. Studies is of utmost importance to me and I try my level best to manage both together. I am trying to manage both together as of now. I am focusing on my studies but at the same time I'm not neglecting singing. I also give singing some time of the day to do my Riyaz.
Which school do you attend and what grade are you in?
KNBS - Kamla Nehru Balshiksha Sansthan is the school I study in. I am currently in Grade 8.
Who do you look up for a musical inspiration?
I look up to Asha Bhosleji because she is so versatile. She has sung songs of every genre and I look up to her always and also am her biggest fan. She emotes the song's emotions through her singing so well, that it is absolutely mesmerizing
Are you often recognized at public places, when you go out with your parents? How do you feel at that time?
It feels very nice indeed. I am like a celebrity in Sultanpur currently and people have changed their way of now looking at me. I hear people say – "She is Nishtha Sharma. She has come here from Bollywood", and I feel nice to hear about that. People give me a lot of respect here and that's what I like the most. Every time I step out with my parents, people come up to me and congratulate me and tell me how inspired their kids are because of me! I feel very nice to hear that I am someone's role model. I want to keep working hard so that, one day I become a role model for the whole world!
Have you won any other awards at school or any other events?
Yes, I have won many awards. Prior to my win I had many awards and medals for different categories and post the win my room is filled with awards from various shows and events. Like former chief minister had bestowed upon me the Rani Laxmibai Award and many more.
Your parents have a music institute back in UP, do you play any musical instrument?
I play a few instruments here and there. I have learnt the Tabla and Harmonium from my parents and the Keyboard and Guitar from my brother. I know a little of almost all the instruments. At their institute, I learn singing as well as instruments.
Usually, when one wins a competition at a reality television show, the next spotlight is an album and then Bollywood. Are you smitten by Bollywood music and would you like to do, playback singing one day?
I actually love playback, and would want to be a playback singer someday. If someone approaches me for it, I will surely say yes. My interest lies in playback. When I see such big artists, I feel after winning a reality show and releasing an album, if I get a chance to playback I'd happily say yes!
At the finale, you met Ranbir Kapoor and the cast of 'Ae Dil Hai Mushkil', which actor and actress do you like in Bollywood?
Answer: Alia Bhatt and Varun Dhawan are my favourite! I also like, Ranveer Singh, DeepikaPadukone.
What are your hobbies?
I love painting. In my spare time, I love art and craft. I keep doing various things to decorate my house.
What is your ambition in life? What do you want to become when you grow big?
Firstly, I want to become the best singer in the Bollywood industry and across India. I also want to become a doctor.
With winning The Voice India Kids, how do you plan to use your prize money?
Well, I had always planned to give the entire sum to my parents, as they mean everything to me. I'd also want to contribute towards helping my family as much as I can.
Interviewed by Verus Ferreira