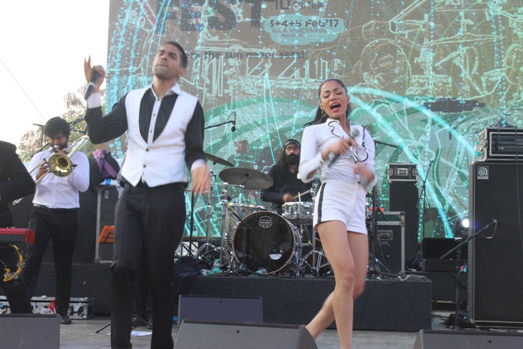 11th August, 2017
Ska, Ska, Ska with a Vengeance - The Ska Vengers
Touted as 'One of the Most Fun Indie Acts to Watch out for',Delhi basedSkaVengers can set any stage ablaze with their music as they bring together Ska, Rocksteady, Reggae, Dub, Jazz and Punk mixed with Cuban and Latin influences to create that magic vibe.
India's first Ska band, the SkaVengers were formed in 2009 and bring about an organic mélange of Ska, Rocksteady, Reggae, Dub, Jazz and Punk with Cuban and Latin influences. Having extensively toured abroad, the band were the nominee for 'Best Indian Act' at the MTV EMA Milan 2015.They also have a 30-minute documentary on themselves titled 'Rude' directed by Wanphrang K Diengdoh.Their unabashedly liberal political view is one thing that makes them an exciting musical act on the Indian independent scene. Songs like Vampire, Jail Mein and Frank Brazil and their accompanying music videos, speak a lot what the band wants to say musically.
Comprising of Stefan 'Flexi' Kaye on keys, vocalists Samara 'Begum X' C and Taru 'Delhi Sultanate' Dalmia, 'The Late' Nikhil Vasudevan on drums, Chaz Bhalla and Tony Gurnard on guitar and bass, the band has got that groove to put you in a dancing mood.
After watching the band give off a power packed performance at a music festival recently, Verus Ferreira met up with the band and found that they are very different from other bands and what makes them so different is their unique presentation and their political overtones.
Can you tell us something on how the band was formed and started doing Ska music?
Stefan Kaye: I was playing in a band called Emperor Minge with Tony and Nikhil and later Samara. This band was a type of quasi classical disco rock band with pretensions of grandeur. There were a couple of ska type songs in the set and I hit on the idea of a separate band that would focus on more songs that were simpler in form yet more danceable than the standard material. At that time around 2007, there were very few non-mainstream dance oriented bands in India, or at least as far as I was aware.
So once the seeds were sown, how did you manage to bring in the right people for the band?
SK: It took more than a year to find the right people. Samara was a natural choice for a singer since she had recently joined Emperor Minge and had great presence and a great voice of course. I met her as I was auditioning singers for a Delhi production of the Broadway musical 'Hair'. Through this production we recruited the original horn players, Gemma and Jackie and later Rie and Yohei. Prior to this though I had checked out a gig in 2008. in which Taru (aka Delhi Sultanate) was performing. I was knocked out by his freestyling and rhythmic agitprop style lyrics and asked him if he would be interested in performing with a yet to be namedska band. He was keen, but wanted to wait until the other members had come together. Shortly after, I placed an ad for a guitarist and I then received a response from Raghav Dang. who was then living in London, but buoyed up by the promise of playing in a band that performed the kind of music he was into, he found it easier to make the decision to move back to Delhi. So it was Nikhil, Tony, Raghav and myself who eventually began rehearsing early in 2009. Our first gig was at a friend's private party and initially featured Samara on guest vocals. We were joined by Delhi Sultanate a few months later.
When you started out, what was the response to a sound that has never been explored in India?
SK: The response was actually very favorable. It seemed that people were finally able to dance to live music as opposed to 'moshing' to metal bands.Ska is not really Latin American, it comes from the West Indies, more specifically from Jamaica. Different band members will have their own unique inspirations.
You are a very politically conscious band and not many bands are saying what you are doing. Comment.
DS: Reggae and Ska have always been rebellious genres. We are merely continuing in this tradition and I feel it's natural for us to react to what is happening around us. India is not alone in the world as a place where increasingly fascist and authoritarian overtones by government have become normalized. The state is treating us as subjects and I also perceive there is a sort of dumbing down and infantilisation of the public. Where is the nuanced debate? Any form of critique or dissent is suppressed in the name of dubiously defined nationalism. I don't think we are the only ones, there are many musicians in India who speak out against these things. Perhaps fewer from the middle class but I believe more and more people will speak up in the times to come. We are already seeing a lot of creative and heartening responses to the regime.
Have you ever received any threats from anyone, political party or have any songs been banned?
DS: Thankfully so far we have abuse and threats we receive have not gone beyond online trolling, though that has gotten unpleasant at times. Nothing compared to what Kabir Kala Manch and others have gone through who were incarcerated and physically intimidated for what they do. No songs have been banned yet either.
Who does the composing and production of the songs in the band?
DS: It's a collective process really, Begum X and I write the lyrics. Sometimes Tony Bass will come up with a bassline and a song is built around that. Often Stefan Flexi K will bring a theme to the rehearsal and we craft a song from it. Most of the composing and arranging of songs is done by Stefan, he has written a lot of the horn arts for our songs as well.
You released your debut self - titled album in 2013 and another album last year. Can you tell us a little about both albums and how different they are from each other?
SK: We decided to start work on 'XX' a few months after the debut was released. In that time, we had written a bunch of new material and wanted to record it while it was still fresh for us. We aimed to go for a more live feel and with a less polished production and take in other influences such as Latin and Afro musical styles. In the time we spent working on it, we had in fact recorded around 20 songs. We picked 9 songs that we felt gave the best overall representation of where we are at as a band at that time. We feel 'XX' works better as an album as opposed to a collection of tracks thrown together, with the unifying element being Delhi Sultanate's urgent and highly rhythmic rap complimented with Begum X's soul and jazz tinged vocals.
Do you all have regular jobsor is music a full time devotion?
DS: Music is full time for most of us. We don't have time for regular jobs. With hectic touring schedules and recording work it's nearly impossible. Most of us though, have other musical side projects.
Which venue where you have performed has been your most memorable?
DS: India's largest prison Tihar Jail saw its inmates grooving when we performed there.
What other projects are lined up for 2017?
DS: We're set to tour the UK again this year. We are also sitting on a bunch of tracks that did not make the album that we are planning to release leading up to the UK Tour 2017 this summer.
Text and Photos by Verus Ferreira
Location: SulaFest, Nashik.