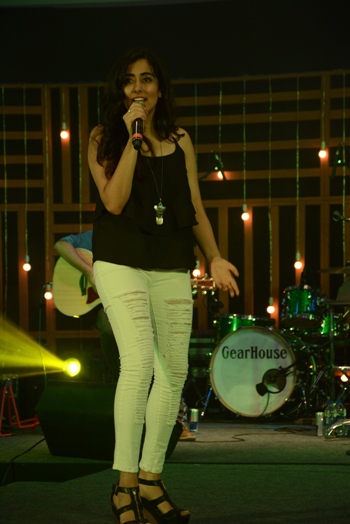 13th September, 2017
Toronto's Nightingale - Jonita Gandhi
Confident women make their own choices. Jonita Gandhi is one of them. Gandhi left her family back in Canada to pursue a career in music. In a short span of time she was nominated for Best Female Playback Singer at the Mirchi Music Awards and the Filmfare Awards for her Breakup Song from the movie Ae Dil Hai Mushkil. More recently, she won Female Vocalist of the Year at the Mirchi Music Awards for the song Gilehriyaan from the movie Dangal.
Verus Ferreira met up with the 27 year old when she was in Mumbai with The Jonita Gandhi Band" to know her rise to fame and what lies in store for this young singer.
How has your journey as a singer been so far, from recording YouTube videos to performing live with esteemed artists like Sonu Nigam and A.R Rahman and hitting it big with Bollywood?
It's a tremendously rewarding experience to be on a multifaceted journey as a singer. When I started uploading covers to YouTube, I never thought they would have gained me the kind of recognition they did, from both fans and Bollywood personalities.
Was music always in the family, how did you get into it?
You could say I've been surrounded by music since I was born. My dad and brother are both musicians by hobby. I started singing publicly when I was 7 when my dad encouraged me to perform with his band at one of their gigs.
Academically what have you done so far?
Before coming to India, I finished my studies and graduated with two undergraduate degrees, Honours Business Administration (Richard Ivey School of Business) and Bachelor of Health Science from University of Western Ontario.
You were based in Canada, why the shift to Mumbai?
I moved to Mumbai to give my career as a professional "Bollywood" singer a solid shot and I knew I had to be here to make it happen. Although I would love to be at home with my family, I will be wherever the future takes me.
You have a brother who is also into music and I think you used to jam with him too, right?
My older brother Mandeep lives in Toronto and is a multitalented percussionist, deejay, drummer by hobby. He performs at events across North America and has accompanied me in public performances as well.
Did your parents object to you taking up music instead of what they wanted you to do?
My parents are very supportive of my career as a singer and always have been. There were no objections. They want for me what I want for myself. Before embarking on this journey professionally, I made sure I completed my studies and had a solid academic backing to support myself in the event that music wasn't the path for me. My parents have been my pillars throughout my life with their unwavering support, encouragement, guidance and love.
Before all the success came your way, you were a YouTube artist, are you still making cover songs on YouTube?
The term "YouTube artist" didn't exist when I began uploading covers to YouTube, but it was thanks to my presence on YouTube that I developed a fan following across all of my social media networks. I haven't been making YouTube covers as frequently as I wanted to over the past few years but I'm currently working on a few and hope to be releasing more regularly on my channel - jonitamusic.
According to you, what do you think makes a YouTube song cover popular?
There are so many different things that make covers popular on YouTube these days, including popularity of the artist, frequency of uploads by the artist, popularity of the song, creativity of the cover audio/video, and so much more.
Do you think social media is the platform for new singers?
There are several platforms for new singers to be seen and make their mark. Surely social media is one of them and plays a role in visibility and connectivity for artists to interact with audiences around the world. It really depends on an artist's personal objective whether social media is the best primary platform for them to focus on.
You received immense popularity from your collaborations with '88 Keys to Euphoria'. How did this collaboration happen?
Aakash and I connected online and our first collaborations were created remotely without having met each other. At the time, 88keystoeuphoria was the number one most subscribed independent Indian musician. I think we had a similar approach to blending Western and Bollywood music and that helped us connect with each other on a musical level. The covers that were noticed by Bollywood personalities at that time were collaborations with him as well.
So coming to Bollywood music, you did the title song for Chennai Express. How did the offer come about?
A friend of mine, Abhishek Ghatak, was working at Vishal Shekhar's studio at the time. I was meeting him at the studio one day and Vishal happened to be there, so we were introduced. They were working on the title track of Chennai Express at the time and Vishal asked me if I wanted to try it out. Of course I was elated and jumped at the opportunity, with no expectations. Much to my surprise, my voice was kept.
What other Bollywood work have you done and what new offers have come your way in the recent past?
My first Bollywood solo was Kahaan Hoon Main from the movie Highway. There have been many after that, and the latest I did was for a Bollywood film "Meri Pyari Bindu".
Are you fully focused on singing in Bollywood now, or will there be any more collaboration in the future?
Even though singing in Bollywood is a large part of my career, I would like to dabble in independent music on the sidelines as well. Collaborations are a wonderful way to learn and explore and I hope to do a lot more of them in the future, outside of Bollywood as well.
You sing in various Indian languages, how did this come about?
In Canada, South Asian events are usually mixed Indian cultures, so I would often get requests for various regional songs to perform at events. My association with Mr. AR Rahman has especially led to people reaching out to me to sing in several south Indian languages. I am extremely proud of my Indian heritage. Although I was born in India and have grown up in Canada, I've maintained a strong connection with my roots.
Now that you have made Mumbai your base, do you have many friends here? How do you chill when you are free?
I've been thankful to make wonderful friends here in Mumbai and try to hang out with them when time permits. Many of my friends are from my musical circle, so we end up hanging out post-show or rehearsals. When we're on tour we try to make the best of where we are by exploring tourist attractions. Otherwise, house visits, movies, parties, dinners, activities…the usual friend hangouts.
We also learn that you are soon going to make your acting debut.
It'll be a new experience and that excites me. The plot and subject matter was really relatable for me, so it seemed like something I could try. The film mirrors my life as a YoutTube sensation, my rise to fame on the digital platform and my massive fan following especially in India and Canada. We will begin shooting in Canada in July.
Besides music, what do you love doing?
I love watching shows/movies, hanging with friends and playing fun games.
What latest work are you busy with?
Well I am back with A. R Rehman featuring in One Heart: The AR Rahman Concert Film which is built around the Oscar winner's North America Intimate Tour (NAIT) series. The film features me and the troupe touring as part of Rahman's live band across 14 locations in North America. Being the lead female singer on the tour was an unforgettable experience. I'm so grateful that Rahman sir trusted me with the task of delivering so many of his hits live on stage. I learned a lot about myself as a singer and performer during those 18 shows, and I'm so happy that parts of it have been captured and presented so beautifully in One Heart for everyone to enjoy. The film presently is showing in theatres.
What advice would you give aspiring singers?
Keep at it. Keep learning. Develop your own sound and don't aim to sound like someone else.