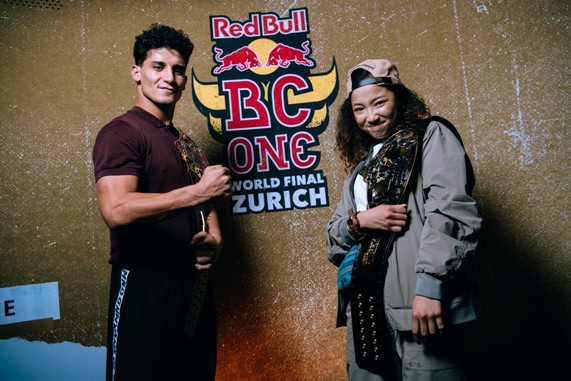 04th October, 2018
Austria's Lil Zoo wins B-Boy Battle at the 15th edition of the Red Bull BC One World Final, while B-Girl Ami wins the first-ever B-Girl World Final
The 15th edition of the Red Bull BC One World Final saw the battle return to the place where it all started – Switzerland. Zurich played host to an unforgettable three-day celebration of dance, with the grand finale held at the sold-out Hallenstadion. The best breakers from 11 countries took over the dancefloor, as more than 4000 cheered them on.
For the first time ever, the Red Bull BC One World Final included a B-Girl Battle, as 16 of the world's finest B-Girls – who earned the spot by either winning Red Bull BC One Cyphers worldwide, or by making a strong stand at other major competitions – battled for the inaugural title. Ami from Japan swiped the competition off the floor with unparalleled skills and outstanding execution. The runner up San Andrea from France showed excellent flow but her high-level acrobatics were not enough to beat Ami's impeccable performance.
"Red Bull BC One is a dream stage. To have the chance to stand on that same stage now and win representing myself and my country while also having fun and being able to take in all the vibes, I'm really proud of that, that's really special for me," said Ami.
In the B-Boy Battle, Austrian favorite Lil Zoo earned his first-ever Red Bull BC One World Champion title by triumphing over Luigi (USA) in a thrilling final over three blistering rounds. "I sacrificed everything to be here. I moved to Austria and worked hard for ten years and I finally made it," he said.
Judges Tuff Kid (Switzerland), Taisuke (Japan), Junior (France), Wicket (USA) and Benny (Germany) had many tough decisions throughout the evening, but at the end of the day two new champions made it to the top of the world.
In addition to the impressive battles, the crowd witnessed a highly sophisticated choreography piece presented by Femme Fatale crew from the USA and heavy beats and rhymes from the surprise of the evening – M.O.P.
India at the Red Bull BC One World Final
Mumbai-based B-Boy Flying Machine represented India at the Last Chance Cypher, having won his third Red Bull BC One Cypher India earlier this year. While he did not qualify for the top 16, his journey to the World Final has been documented in a new series called Route to Red Bull BC One.
Red Bull BC One World Final Line-up:
B-Girls: Ami (Japan), Ayumi (Japan), Narumi (Japan), San Andrea (France), Roxy (UK), Sarah Bee (France), Kate (Ukraine), Sunny (USA), Mess (Russia), AT (Finland), JK47 (Canada), Primary Soul ( South Korea), Kastet (Russia), Mini Japa (Brazil), Paulina (Poland), Sayora (Kazakhstan)
B-Boys: Lil Zoo (Austria), Luigi (USA), Victor (USA), Dr. Hill (Switzerland), Uzee Rock (Ukraine), Lil Kev (France), Issei (Japan), The Wolfer (Austria), Luka (Brazil), Cri6 (Marocco), Nori (Japan), Sunni (UK), Vero (South Korea), Kid Colombia (Netherlands), Leony (Brazil) and Chey (Spain)