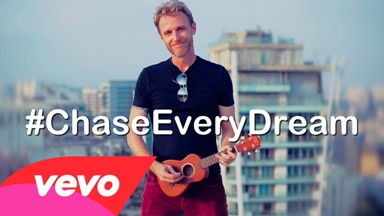 17th June, 2014
Mikey McCleary debuts his new album 'TV Dinners'
After romancing Bollywood's retro music, versatile musician Mikey McCleary debuts on TV with a first-of-its kind album called 'TV Dinners'. The album is an eclectic mix of songs that Mikey composed and wrote for major TV commercials (popular jingles) for major TV advertising brands like Vodafone, Levis, Audi, Titan and Lakme. He's extended these 45 second jingles into full songs by adding new composition and lyrics. Instead of sounding like jingles they sound like tracks from various artists. Featuring Mikey's vocals on half the album, it also features Anushka Manchanda, Shalmali Kholgade and Monica Dogra. Sony Music will soon be releasing Mikey McCleary's debut album of English songs but here's the thing, you've heard all these songs before and that too on TV.
Certainly the first of it's kind in India and probably worldwide, this album of songs made from extended TV jingles is not only catchy and familiar but surprisingly rich in quality and doesn't sound for a moment like it's selling anything, other than good music.
Just in time for the soccer fever that is gripping the world, 'Chase Every Dream' is the first song from the album. The video, featuring Ranveer Singh, Shradha Kapoor, Kalki Koechlin and Shaan, alongside people from the streets of Mumbai and friends of Mikey's, will be released live on VEVO on June 16th .The vocals for this inspirational song, originally heard on a Levis commercial, are by singing sensation Anushka Manchanda.
The album comprises of songs that are extended versions of the ORIGINAL 45 seconds jingles. In addition to Mikey's vocals, the album also features Anushka Manchanda, Shalmali Kholgade, Monica Dogra, and others.
"When these ad songs came out, people kept asking for the full songs thinking that they were pre existing songs by artist or bands, so I decided to create an album of the most popular ones. I am extremely excited to be releasing this unusual collection in India." Says Mikey.
Like all his videos, the video for 'Chase Every Dream' has been conceptualised and directed by Mikey.
Watch this space for more news on Mikey's new music videos.