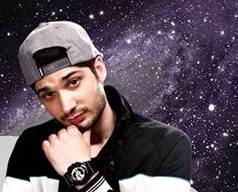 29th October, 2014
KRSNA releases music video for the title track of his album 'SELLOUT'
Hip Hop artist and rapper KRSNA has released a new music video of the title track of his best selling album, SELLOUT.
Following the response of his first video "Last Night" from his debut album, Krsna released the video for his title track 'Sellout' from his debut album of the same name. The growing popularity of this track with its edgy lyrics as much as the catchy hook and rhythm of the music has prompted this new music video from the album.
"Sellout is a song about the dichotomy every artist faces, making a choice between staying true to the art form or selling out to make a larger commercial impact. The two paths rarely intersect and remain a point of contention," said the rapper who is willing to walk the thin line.
"I named my album Sellout as well, as a response to people telling me that I should have never gone mainstream and that they preferred the more serious music I made earlier on in my career", he added.
Devraj Sanyal, MD Universal Music India, said, "Hip-Hop is not just a genre, it is a movement – and in India KRSNA is leading it from the front. The response that this project has received on the back of its ContraBands' launch has been extremely encouraging and it's only befitting that we follow-up the lead single / video "Last Night" with "Sellout" which is a brilliant clutter-breaking record by KRSNA that sets standards for all hip-hop records arising out of India."
Commenting on the success of KRSNA & Contrabands, Ferzad Palia, EVP & Head - English Entertainment, Viacom18 says, "Vh1 has always believed in supporting and promoting new talent in India. Our association with Universal Music and Hard Rock Café has helped us take another key step in that direction. The success of Krsna and other such talents is testament of our efforts. We are excited with the overwhelming response our artistes have received, and hope to introduce many more hidden talents to the music industry"
KRSNA is signed to Contrabands, a joint venture between Universal Music, Vh1 & Hard Rock Café and has completed the first leg of his India-wide promotional tour for the album with drummer Hamza Kazi and DJ Su1.