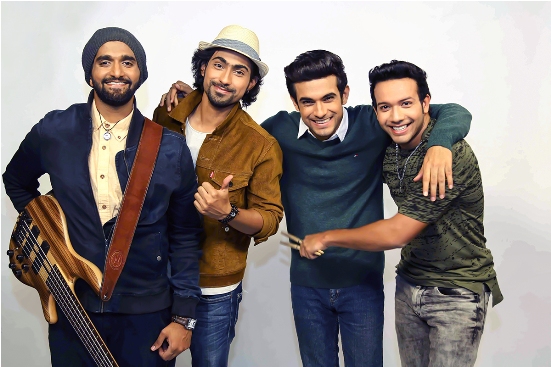 20th November, 2017
Sanam nominated for the "Best Music Content Creators - All India"
International YouTube sensation Sanam nominated for the "Best Music Content Creators - All India" category at India's first Social Media Sumit and Awards at Andhra's capital, Amravati in Vijayawada.
One of India's earliest YouTube superstars, Sanam is a home grown pop rock band. The band is known for being amongst India's top 10 independent YouTube Channels, India's biggest music artist on the digital platform and the fastest growing YouTube Channel in the country.
More recently, the band was invited to perform at the YouTube FanFest 2015-16 where Sanam's YouTube Channel was announced as the fastest growing and highest watched independent music channel on YouTube in India, with over 14 million channel views every month and a YouTube subscriber base growing at a dramatic pace.
The band's official YouTube channel has more than 208 million views with 2 million + subscribers and an average of 500K daily views. This enormous fame has truly stood as testament of how music can cross borders reaching out to their massive fanbases in exotic places across the globe like Maldives, Mauritius, South Africa, Trinidad, Kenya, Netherlands, Bangladesh, United States, England, Pakistan, Nepal, Sri Lanka, Nigeria, and Suriname besides India. They have performed at significant events and music festivals in India and otherwise. They have also collaborated with prime composers like Clinton Cerejo, ARR, Salim-Sulaiman, and Mithoon.
The band has been often referred to as India's 'One Direction' because of their fast popularity and described as a "fabulous four" by the Times of India.