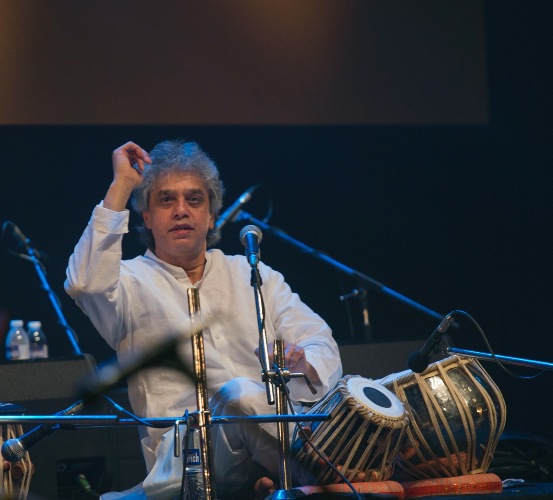 15th April, 2018
The Journey Continues... A Tribute to Ustad Allarakha on his 99th Birth Anniversary
It is time for your yearly date with captivating music. Carrying the legacy of Ustad Allarakha forward, his son, Fazal Qureshi curates and performs a special concert in memory of his father. This year is no different. The concert is entering it's​ 9​9​th year and is synonymous to providing a platform for young and ​established​ artists in the field of music.
April 29, 2018 will ​also ​mark the beginning of the centenary year of the legendary tabla player Ustad Allarakha, the man who brought the Tabla to the forefront of world music. In the words of Micky Hart, the Grateful Dead drummer, "Allah Rakha is the Einstein, the Picasso; he is the highest form of rhythmic development on this planet."
On Ustad Allarakha's birth anniversary his son and tabla maestro Ustad Fazal Qureshi and actor-storyteller Danish Husain team up to bring to you a musical tribute to this tabla genius by recreating some of his compositions and celebrated collaborations interspersed with the story of the journey of his life on stage.
Their humble effort to affirm that the journey he began, continues.
Fazal Qureshi sheds light on why and how this concert came in to being, he says, " It is like handing over of tradition from generation to generation. This concert gives platform to young talent to showcase their skills and in a way to keep the tradition alive. The younger generation in a way ensures that Abbaji's philosophy will be passed on through the coming generations."
An evening will see Ustad​ Fazal Qureshi (Tabla) perform with various artists. Music, as captivating​ as​ it gets, binds people and musicians from all over. Recollecting one of Abbaji's philosophies, Fazal Qureshi emphasises on how music binds people, "We hear different genres of music​ and then you see different people who play different kind of music coming in for a collaboration. What binds them? Rhythm. Abbaji always said that rhythm is like a fabric that knits all the artists together. The diversity in form and yet the symmetry in rhythm."
On a final note, what to expect from this year's performances, he says, "It is going to be a very engaging and entertaining high energy concert."
Concert Details:
Date: S​un​day, 29​th April 2018.
​Venue: St. Andrew's Auditorium, Bandra​ West
Timing: 7:​00​ PM
Passes - Free of Cost. Available at Andrew's Box office from 25th April​