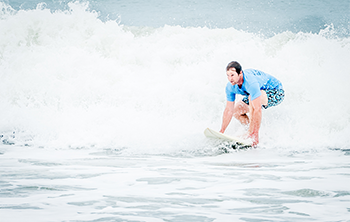 09th August, 2018
Chennai all set to host the 6th Edition of the Covelong Point Surf.Music.Yoga Festival
The 6th Edition of the coveted Covelong Point Surf.Music.Yoga festival is all set for a gala opening at Kovalam, Chennai on the 17thof August 2018. The annual surfing, music and yoga extravaganza will be held at Kovalam from the 17-19 August 2018. Kovalam based in the outskirts of Chennai is also known as India's 'First Surfing Village'. Chennai based TT Group is the principal presenter for this annual surfing, music and yoga extravaganza, founded by Arun Vasu, Yotam Agam and Murthy Meghavan.
The Covelong Point Surfing championship is recognised by the Surfing Federation of India. Former South-African all-rounder Jonty Rhodes who himself is an avid surfer will also be seen in action at the Covelong Point Surf.Music.Yoga festival 2018 promoting surfing amongst the youth. The premier surfing competition will see top men's and women's surfers from across the country vie for the top spots under seven categories in Surfing. The surfing categories for the championship are as follows - Novice (U12); Groms (U16); Juniors (17-22 Years); Seniors (23-30 Years); Masters (31 Years and above); Women (all ages); Open Category (Foreign Nationals).
This year the competition would also see participation from surfers from Bangladesh and Sri Lanka. The Surfing Federation of India also has inked a historic agreement for an exchange program with the Sri Lankan Surfing federation where surfers from both the countries would be participating in the official competitions across the coasts in both the countries.
Over 100 surfers from Karnataka, Goa, Tamil Nadu, Orissa & Kerala alongside some of the top surfers from Sri Lanka, Australia, France & USA will be seen in action at the Covelong Point Surf.Music.Yoga Festival 2018. Local boys Sekar Pitchai, Ajeesh Ali will be the flag bearers for Tamil Nadu in the seniors and groms U16 category. The women's category is expected to witness a tight contest between Auroville's Suhasini Damian and Mangalorean Sinchana Gowda.
"As a sport, surfing has seen tremendous growth over the last few years. The number of youngsters coming forward to take up surfing is just overwhelming to see. We are trying to be a respectable surfing contingent in South East Asia in the next 5 years or so and we plan to enter into more exchange programs with Asian countries and give more exposure to our junior surfers in the coming years. Looking at the quality of surfers that we have produced over the years, I am sure it's not long before we will have a roster of surfers knocking on the top glories on the international scene. This year we also have entered into an agreement with the Sri Lanka Surfing Federation to invite surfers from both the countries to participate in the competitions. Such exchange programmes will only help our surfers gain more exposure and surf time hence help them maintain form and continuity for the bigger international tournaments in the future. I am very confident of an extremely competitive field this year as well at the Covelong Point Surf, Music & Yoga Festival 2018," said Ram Mohan Paranjpe, Vice- President, Surfing Federation of India.
The Covelong Point Surf.Music.Yoga Festival 2018 festival is one of most coveted and India's top surfing competition. The festival would also include mesmerising musical performances from across a wide array of genres including the Iconic 90's Indie-Rock band 'Indus Creed' along with Chennai's leading electronic band 'Saptha' and the F16s a Dance/Punk band from Bengaluru amongst many other performances over the weekend. Renowned acro-yoga instructor Shakti Shilpa, Divya Srinivasan and Rohini Manohar are a few names who would be taking a few yoga sessions at the festival.
"India has a great potential for being a successful nation in surfing", says Arun Vasu, Managing Director, TT Group - who himself has been into water-sports since the age of 13. "This year's Covelong Point Surfing competition is bigger and we expect it to be even more competitive compared to the previous five editions. TT Group is proud to be associated with the sport which is growing at a strong and rapid pace. We look forward to an amazing Surfing competition at Covelong this year", added Mr Vasu about the event.
The Sixth Edition of 'Covelong Point Surf.Music.Yoga Festival 2018'; besides a national and international level surf competition also features a global music lineup spread across three stages, yoga and meditation classes and alternative healing workshops - the annual event attracts thousands of attendees every year from across India and around the globe, with last year's footfall being approximately 15000 people. A pilgrimage site of sorts for surfers, yogis, and artists alike, the event also features a vibrant flea market, food stalls, art installations and beachside activities/sports.