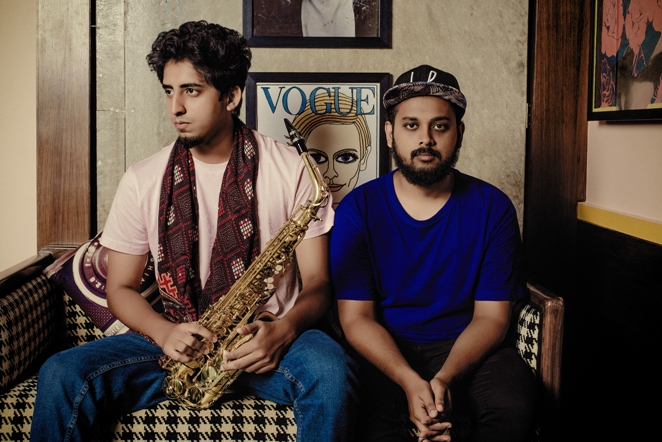 01st September, 2018
Argenil collaborate with Apache Indian and Yatez for debut EP
On the verge of releasing their debut EP next month, Bangalore-based duo Argenil, have charted exclusive territories in the music industry by fusing Indian instruments and music with EDM to create a self-composed genre they call 'Hindustani Trap'.
The brand new independently released 5 track EP titled She Did It features Sleazeball, Help, Dholna, Marianna and She Did It. From using nadaswaram, violins, flutes, table, ravanhattha, thavil, the EP covers everything from reggae to trap to dubstep to folk to hip hop. Debuting on the album is upcoming American rapper Eddie, reggae legend Apache Indian and UK based rapper Yatez as well as New Delhi based Hindustani singer Deveshi Sahgal
Argenil state, "The concept of this EP is essentially personal growth and strength. Like everyone, we have been through tough times and have always been resilient and risen back up. In many ways, it's a snap shot of finding yourself and never giving in."
Apache Indian states, "Hearing Argenil has made me excited for new music again! And after watching them perform I was totally blown away, fusing elements of trap, Indian sounds, live music & a DJ. I think they have a lot of potentials and have massive global appeal. Fantastic duo right out of Bangalore...one of my favorite cities in India."
Eddie Heartthrob states, "Argenil is bringing an innovative and refreshing sound to India's music scene. The way that they are able to craft such a hype-trap sound, while at the same time keeping in touch with their roots and their culture is only going to lead them to greatness. It is always admirable when someone brings something new to the table, and Argenil is doing just that. Rather than riding a trend, they are paving their own lane. They are phenomenal musicians and I am certain that in the near future, they will need no introduction."
Yatez states, "I had a lot of fun working with Argenil and experimenting with what was a new genre for me. I have a lot of respect for their sound and feel like the fusion between us created a special track."
On another note, the enterprising duo have freshly been signed to US based music management firm Sunset Entertainment who have worked with Troyboi, Craig David, Ashanti, Jamie Foxx, Timbaland, Shakira, Jason Derulo, Keri Hilson, Pussycat Dolls, P Diddy, Nelly Furtado and the likes.
She Did It encompasses South Indian influences by combining big south drums, thavil, nadaswaram to get a down tempo hip hop feel. This track features a catchy chorus from Eddie to aptly present the female centric concept.
Marianna is the official Apache Indian remix which blends reggae with dance hall/flip trap.
Argenil is an electronic music duo based out of Bangalore, India, consisting of producer/percussionist Rohit Gandhi and guitarist/DJ Anil Prasad. Merging their love of performance, production, trap, and hip hop. With influences from artists such as Big Gigantic, Goldfish, Troyboi, Kygo, Apache Indian, FKJ, Agam, Parvaaz, A.R. Rahman and Shankar Mahadevan, their live show is more than just a DJ set. Between the two of them they can play guitar, bass, drums, tabla and saxophone, and they often feature other artists on stage including flute players, singers and rappers. The name was derived out of a brainstorming session in a turbo machine class during the duo's days at the engineering college
Anil Prasad is a self-taught guitarist, DJ, video editor and colourist and also runs 2 Pawn Studios. Rohit Gandhi is a music producer and multi-instrumentalist who started his journey from religious showcases. His mother taught him to play the Octapad when he was 10 years old. He plays the drums, percussion, saxophone, dholak and tabla and also takes MC duties on stage.