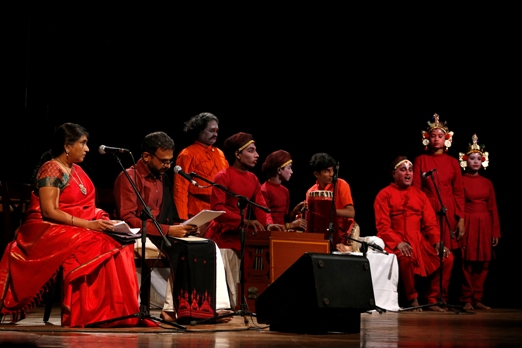 12th January, 2019
First Edition Arts presents Carnatic musician TM Krishna
Kicking off the action packed year, First Edition Arts have two concerts coming up this month with the dynamic and always brilliant Carnatic musician and writer T. M Krishna: Karnatic Kattaikuttu at the CSMVS (Prince Wales Museum) on the 19th and Aikya - Celebrating the oneness of music at St. Andrew's auditorium on the 20th January 2019. Both are new collaborations and also feature a host of wonderful actors, and co musicians.
CSMVS Mumbai and First Edition Arts, (FEA), present Karnatic Kattaikkuttu, a first time ever collaboration between two distinct art forms - Karnatic music, the classical music of South India and Kattaikkuttu, a form of movement based, Tamil language folk theatre. This unique collaboration was ideated and created by the legendary Kuttu actor, playwright and director P Rajagopal, the Karnatic musicians Sangeetha Sivakumar and TM Krishna, and Hanne De Bruin, the performing arts scholar and programs director at the Kattaikkuttu Sangam in Kanchipuram.
Apart from depicting scenes from The Mahabharat the performance also features an unprecedented musical dialogue between Karnatic vocalist T.M. Krishna and Kattaikkuttu actor, director and playwright P. Rajagopal. They reflect on the different perceptions of Karnatic music, Kattaikkuttu, the social and caste-based differences that separate them, the nature and role of language and the artistic intricacies that define both forms.
"This is a conversation between two art forms that occupy different spaces in Tamil social hierarchy. Through this experiment, we explore our meeting points, at the same time recognise our respective aesthetic distinctiveness. We also hope to rekindle the musical links that Kattaikkuttu and Karnatic music have had in the past. Art is a passageway through which we can understand the cultures of people who participate in various art forms," says T.M. Krishna, Karnatic Musician and Writer.
The Artists:
Karnatic Kattaikuttu
Date: Saturday, 19th January 2019.
Time: 7 PM
Venue: CSMVS lawns, Fort, Mumbai.
Tickets: Entry Free RSVP to events@csmvs.in and get a Free Pass.
Aikya - Celebrating the oneness of Music
Aikya is an exciting new artistic collaboration based on a tantalizing quest to discover the oneness of music between Carnatic musician TM Krishna and two eminent Nadaswara artists Sheik Mahaboob & Smt Kaleeshabi Mahaboob who are based in Thiruchirapalli, Tamil Nadu. This fascinating collaboration is being done for the first time between these artistes. The will also feature Akkarai Subhalakshmi (violin), Praveen Sparsh (mridangam) and BS Purushotham (kanjira).
The nadaswaram is a double reed wind instrument similar to the North Indian shehnai but much longer with a hardwood body and a large flaring bell made of wood or metal. It is considered a traditional and auspicious instrument. Known for its cultural associations with temples and rituals in South India, the nadaswaram also has an established history as a classical music instrument with generations of outstanding musicians; however, it has suffered a loss of patronage and recognition in the last century. Aikya is envisaged as an unscripted new artistic collaboration between a contemporary singer and two Nadaswaram artistes who are carrying forward an age-old lineage in which the past and the present intersect to create a unique musical experience.
Aikya – Celebrating the Oneness of Music
Date: Sunday, 20th January 2019.
Time: 7 PM
Venue: St.Andrews Auditorium, Bandra, Mumbai.
Tickets: On BookMyShow.
Among the new initiatives planned for the year, First Edition Arts (FEA) hopes to work increasingly with younger musicians, document the pedagogy and practice of senior artistes and Gurus, take concerts to corporate offices in BKC in a new series starting in April, work with younger musicians to create modules for children with learning disabilities and create a line of cool merchandise that takes Indian classical music to younger and newer audiences.