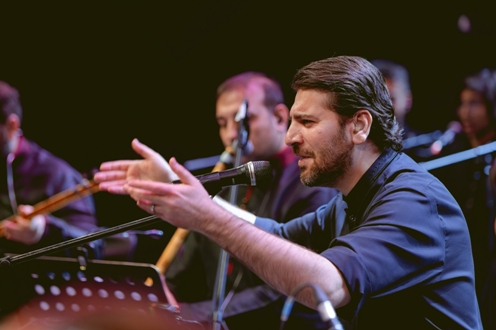 11th February, 2019
A.R Rehman, Sami Yusuf leave Delhiites spellbound at The Sufi Route.
All roads led to the new cultural landmark and entertainment destination Kalagram, Garden Of Five Senses as music virtuosos A. R. Rahman and Sami Yusuf advocated world peace and inclusion in their individualistic musical style at the second edition of India's foremost travelling global Sufi festival, The Sufi Route, organised by Friday Music Project in association with Delhi Tourism.
The performances at The Sufi Route opened with a poetry session, moderating the age-agnostic cultural extravaganza was renowned lyricist and poet Manoj Muntashir, who presented the plethora of the rich cultural heritage of sufism.
Set amidst an ethereal ambience emancipating an evocative aura, stellar performances by Satinder Sartaaj, Nooran Sisters, Dhruv Sangari transported patrons to a celestial ecosphere where old world mysticism met new world allure. The Nooran Sisters showcased their well-rooted linguistic and musical traditions through their songs like Sayoni, Allah Ho Fakira, Pattakha Guddi. Qawwali and classical maestro Dhruv Sangari too made it a memorable evening with Kabir, Tum Ik Gorakh Dhandha Jo and many more showcasing the rich Sufi culture spanning eight centuries added to the magical vibe. While Satinder Sartaaj's Sai left audiences spell bound.
Sami Yusuf, popular British singer, songwriter and multi-instrumentalist, had promised that his first ever concert in the country would be a night to remember. And the musical icon kept his promise delivering an encore performance to a full house. He performed some of his most memorable pieces as well as new compositions.
Journeying from East to West with master musicians of traditional music and performing some of his greatest hits from albums such as Ya Rasul Allah, Hasbi Rabbi, Lament, You Came To Me, Sari Gelin, Maulana,Ya Hayyu Ya Qayyum, Ya Ummi, Healing and even popular Indian qawwalis like Mast Qalandar, he regaled his audience late into the night.
That said, the one performer for whom hundreds of music lovers from across Delhi NCR had congregated for, A R Rahman, truly took the concert to a celestial dimension. A proud exponent of Sufi music, plunged into the evening with his soulful crowd pleasers of Kun Faya Kun, Allah Huma Salle Alla, Arziyaan Sari Main, and many more for a set that exceeded over two hours. He was supported by the vocal prowess of Javed Ali. Not to forget he premiered his first ever on stage Sufi rendition of Piya Haji Ali that further captivated the audience.
The concert commenced mid-afternoon and concluded late evening with a satiated 3000 plus audience.