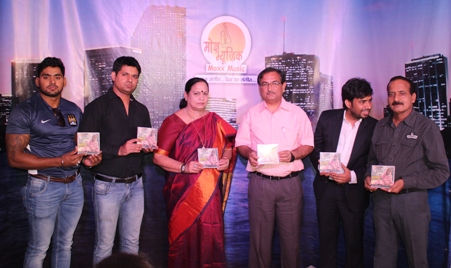 15th May, 2015
'Teri Yaad Mein Maa' a Tribute to Mothers by Moxx Music
Mother is the most precious gift that nature conferred us. People express their love to mothers in different ways. To infuse melody in the Mother's Day celebration, Moxx Music released 'Teri Yaad Mein Maa' amidst the august presence of Mrs. Aasha Singh (Deputy Mayor Of East Delhi), Dr. Muktesh Chandra (Special Commissioner, Traffic Police, Delhi) and Mr. Paras Gupta (Jr. Mr. India 2014). Bollywood singer Arun Upadhay created an emotional rendition in this solo album and the duo of young music directors Raj-Ramesh composed the song in full harmony. This album can be accessed worldwide on all the digital platforms.
The album shoot was held in Delhi-NCR and child Actor Divyansh, upcoming Rap Singer KD Dude and Preeti Khurma are the star performers in the video of the song. The soothing music is the brain child of music composers Raj-Ramesh. Raj Mahajan (Managing Director, Moxx Music) is working jointly with Ramesh Mishra in the area of music.
Dr Muktesh Chandra (Special Commissioner, Traffic Police, Delhi) who is the great lover of music couldn't resist himself at this occasion, he enthralled the audience with a symphony played by him on the flute. He said, "Teri Yaad Mein Maa is really a heart tugging song and composers Raj-Ramesh infused a vibrant soul to this song." He further added, " I am listening Arun Upadhay for last two years and he is one of my favourite singers among the budding artists. He is a versatile singer and he did sheer justice with Teri Yaad Mein Maa."
At this occasion, Mr. Raj Mahajan, Managing Director, Moxx Music and of the composers of 'Teri Yaad Mein Maa' stated, "Music is the best way to express our emotions and on Mother's Day it is Moxx Music's tribute to all the loving mothers. Music is the most enchanting legacy of India's rich culture and we are making all efforts to develop quality music. Now, most of our albums are accessible in all the digital platforms."
The hero of the event, singer Arun Upadhyay expressed his gratitude to Moxx Music, he said, "I am thankful to Raj-Ramesh Jodi that they have chosen me for this soul stirring number". Arun Upaddhyay has also lent his melodious voice to a track of the upcoming Bollywood movie 'DOGLA'.
Arun Upadhyay is a famous Mumbai based playback singer who is trained from Banaras. He has already sung numerous songs for albums and movies and has lent his mellow voice for various songs for Bollywood movies. He used to sing dummy songs of Bollywood as was known as a famous dummy singer. Arun has been performing on stage for last 8 years. He carries a charming personality on stage with a mesmerizing voice. Arun can entertain the audience in Hindi, English, Punjabi, Haryanvi, Bhojpuri and Bengali languages. He has won several awards for his talent. List of his upcoming songs includes: New Age Hanuman Chalisa (Hindi) / Ham Jani Na / Avoid Fast Food / Tu Dilnasheen / O Maa / Wo Rone Lage / Aashique Kaa Janaazaa and Kaise LaageTere Bin.