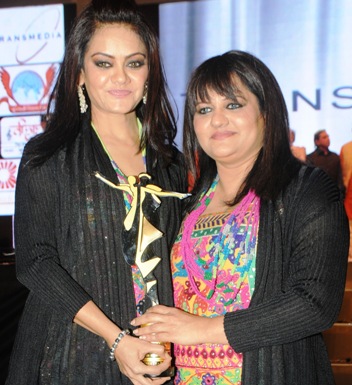 03rd March, 2014
13th Annual Transmedia Screen & Stage Awards 2013
1st of March opened to the long awaited award ceremony by the Gujarati entertainment industry fraternities. It was here that the Gujarati community felicitated around 55 Gujarati Film, TV and Stage Artists. This year the 13th Annual Transmedia Screen and Stage Award was organized at The Pool side of Tulip Star, Juhu, Mumbai. The evening of dark amavasya was glittering with grandeur and glamour of the event.
In addition to all the leading Gujarati industry artists and technicians, the presence of Bollywood director Satish Kaushik was present to celebrate the felicitation of Bollywood Mr. Jayantilal Gada of Pen India Pvt Ltd with prestigious Dhirubhai Ambani memorial award. Impressed by the event, Satish Kaushik said, " This is the first time I have ever attended a Gujarati Award ceremony and seen such a huge presence of Gujarati artists. I am sure no one can now stop progress of Gujarati entertainment industry." Bollywood director – writer Sanjay Chhel was present to receive the prestigious 'Maharathi' award and Bollywood writer-director Niraj Vora was also present. Life Time Achievement awards were presented to the only International award winner heroine of Gujarati Film 'Kanku', Smt. Pallavi Mehta and senior actor of Gujarati and Hindi Film, TV, Stage Shri Devendra Pandit.
As every year, both the Life Time Achievement Awardee were also presented the case Prize of Rs. 51,000/- by NRI Shri Rashmikant Kamdar and Mrs. Bhavna Kamdar. Hindi serial 'Baalveer' fame Dev Joshi, young speaker Radha Mehta, famous Gujarati anchor and poet Ankit Trivedi was presented Young Gujarati Literature Talent Award. Also Yogesh Lakhani of Bright outdoor, Jahnvi Preadeep Vakil of Gem Events and Naresh Shah for 'Dost Hu Gujarat Chhu' were awarded with Transmedia special Award. Gujarati pop-singer sisters Preety- Pinky were awarded 'Music Director Mahesh-Naresh' award and Leading Businessman, Chairman of 'JITO' and Social worker Shri Narendrakumar Baldota was awarded the prestigious Jain Ratna Award.
Along with the Transmedia MD Shri Jasmin Shah and Shri Manohar Kanungo, the dais was full of dignitaries like Shri Bharat Shah, Shri Pravin Kotak, Shri Rashmikant Kamdar, Shri Jayanti Barot, Smt. Jayavantiben Mehta, Shri Bhavanbhai Bharwad, Shri Manish Shah (Matunga), Shri Atul Shah (ex-MLA) and Shri Raju Savla. Also leading dignitaries like shri Aanad Pandit, Shri Pranav Amin, Shri Bhargav Patel were present to give away few awards.
In his speech, Shri Jasmin Shah said "Gujaratis are leading and progressive in almost all fields including Bollywood and Tollywood, but they are far lagging behind in Gujarati Film Industry. When we are entering to Teen age in this 13th year, every Gujarati should be serious and sincere about the upliftment of Gujarati Film industry and should try to attract more and more youngsters to take interest, love and pride for their mother tongue. Also we should think of Unity and a responsible strong Gujarati leader in Mumbai. Gujarat CM Shri Narendra Modi was present on the Stage of Second Annual Awards and From this stage of 12th Annual, I had declared my wish to have Shri Narendra Modi as our Prime Minister candidate , and it has come true now. I wish next year Prime Minister of India Shri Narendra Modi will remain present on this stage to encourage Unity of Gujaratis."
Aishwarya Majmudar, Chandan Rathod and Preety-Pinky presented dhmaka performances that left the audiences spellbound.
This year there was competition between 39 Mumbai Dramas, 7 Gujarat Dramas, 6 Gujarati TV Serials and around 45 Gujarati Films. Mumbai Drama 'Hello Pakistani Hu Gujarati' was declared Best Play and the Director of the same Vupul Mehta was declared Best Director Award winner. Manoj Joshi was declared winner of Best Actor award for his play 'Man male tya Melo' and Dhruma Mehta was declared winner of Best Actress award for her play ' Garvi Guaratane Rang Rakhyo'. Gujarat Drama 'Kasturbaa' and 'Akupaar' directed by Aditi Desai had remained lead winners in Gujarat Drama categories. TV Serial 'Matha Bhare Manjula' of Dharmesh Mehta and 'Swapna Aakash' of Doordarshan won major awards. In Gujartai Films, 3 urban films 'Happy Family Pvt Ltd.' , 'koi ne Kahesho Nahi' and 'The Advocate' were leader in major categories, while Haresh Patel's Gujarati film 'Patan thi Pakistan' was declared the Best film and also Pranjal Bhatt was declared Best Actress for the same film and Rajiv Mehta was declared Best Actor for the film 'Happy Family'.
One and all had praised the Team Transmedia efforts for the best organized event.
The awards are as follows:
BEST WRITER – GUJARAT DRAMA - NARAYAN DESAI - KASTURBA
BEST SUPPORTING ACTRESS - GUJARAT DRAMA - RAKSHA NAYAK - AKUPAR
BEST SUPPORTING ACTOR – GUJARAT DRAMA - NISHITH BRAHMBHATT - PITRU DEVO BHAVA
BEST ACTRESS – GUJARAT DRAMA - BHAVINI JANI - MARRIAGE PACHHI NU MANAGEMENT
BEST ACTOR – GUJARAT DRAMA - ABHINAY BANKER - KASTURBA
BEST DIRECTOR – GUJARAT DRAMA - ADITI DESAI - KASTURBA
BEST DRAMA – GUJARAT - AKUPAR - JASHWANT THAKER MEMORIAL THEATER
BEST SCRIPT WRITER – TELEVISION SERIAL - RAFIQUE PATHAN - SWAPNA AAKASH
BEST SUPPORTING ACTRESS - TELEVISION SERIAL - LEELI PATEL - MATHA BHARE MANJULA
BEST SUPPORTING ACTOR – TELEVISION SERIAL - SACHIN BRAHMBHATT - SWAPNA AAKASH
BEST ACTRESS – TELEVISION SERIAL - DIPANGI RAWAL - SWAPNA AAKASH
BEST ACTOR – TELEVISION SERIAL - NISARG TRIVEDI - SWAPNA AAKASH
BEST DIRECTOR – TELEVISION SERIAL - SAMEER BAXI - SWAPNA AAKASH
BEST TELEVISION SERIAL - MATHA BHARE MANJULA - NAMANRAJ PRODUCTIONS
BEST WRITER – MUMBAI DRAMA - SNEHA DESAI - KAMAL KARE CHHE, AA PATEL KEVI DHAMAL KARE CHHE
BEST SET DESIGN – MUMBAI DRAMA - CHHEL PARESH - HELLO PAKISTANI, HU GUJARATI
BEST LIGHT DESIGN – MUMBAI DRAMA - ROHIT CHIPLUNKAR - HELLO PAKISTANI, HU GUJARATI
BEST MUSIC DIRECTOR – MUMBAI DRAMA - UDAY MAZUMDAR - BAHUT NACHYO GOPAL
BEST ARTIST IN COMIC ROLE - MUMBAI DRAMA - KAJAL SHAH - AA NA.MO. BAHU NADE CHHE
BEST SUPPORTING ACTRESS - MUMBAI DRAMA - CHARUL BHAVSAR - HELLO PAKISTANI, HU GUJARATI
BEST SUPPORTING ACTOR - MUMBAI DRAMA - KAMLESH MOTA - MAN MALE TYAN MELO
BEST ACTRESS - MUMBAI DRAMA - DHRUMA MEHTA - GARVI GUJRATANE RANG RAKHYO
BEST ACTOR – MUMBAI DRAMA - MANOJ JOSHI - MAN MALE TYAN MELO
BEST DIRECTOR – MUMBAI DRAMA - VIPUL MEHTA - HELLO PAKISTANI, HU GUJARATI
BEST DRAMA – MUMBAI - HELLO PAKISTANI, HU GUJARATI - SANJAY GORADIA / KAUSTUBH TRIVEDI
BEST SCRIPT WRITER – FILM - SHRAVANKUMAR - THE ADVOCATE
BEST CINEMATOGRAPHER – FILM - RAVJI SONDARVA - THE ADVOCATE
BEST EDITOR – FILM - SHRAVANKUMAR - THE ADVOCATE
BEST CHOREOGRAPHER - FILM - RAJU NAYDU - PATAN THI PAKISTAN
BEST MUSIC DIRECTOR – FILM - ADVAIT NAMLEKAR - HAPPY FAMILY
BEST LYRICS WRITER – FILM - LAKHUBHA SARVAIYA - SUHAAG
BEST FEMALE SINGER – FILM - AISHWARYA MAZUMDAR - KOI NE KAHESHO NAHI
BEST MALE SINGER – FILM - JAY CHAVDA - VER NI VASULAT
BEST ACTOR IN NEGATIVE ROLE – FILM - VRAJESH HIRJEE - HAPPY FAMILY
BEST SUPPORTING ACTRESS – FILM - KALYANI THAKER - KOI NE KAHESHO NAHI
BEST SUPPORTING ACTOR – FILM - TIKU TALSANIYA - KOI NE KAHESHO NAHI
BEST ACTRESS CRITIC – FILM - SONIYA SHAH - HAPPY FAMILY
BEST ACTOR CRITIC – FILM - SOHAN MASTER - KOI NE KAHESHO NAHI
BEST ACTRESS - FILM - PRANJAL BHATT - PATAN THI PAKISTAN
BEST ACTOR - FILM - RAJIV MEHTA - HAPPY FAMILY
BEST DIRECTOR – FILM - RAGHUVIR JOSHI - HAPPY FAMILY
BEST FILM 2013 - PATAN THI PAKISTAN - H. G. PICTURES – HARESH PATEL
LIFETIME ACHIEVEMENT AWARD – MALE - Devendra Pandit
LIFETIME ACHIEVEMENT AWARD – FEMALE - Pallavi Mehta
MAHARATHI AWARD - Sanjay Chhel
TRANSMEDIA SPECIAL AWARD - Radha Mehta
TRANSMEDIA SPECIAL AWARD - Dev Joshi
TRANSMEDIA SPECIAL AWARD - JAHNAVI PRADEEP VAKIL
TRANSMEDIA SPECIAL AWARD - DOST HU GUJARAT CHU
DHIRUBHAI AMBANI MEMORIAL AWARD - SHRI JAYANTI GADA
MAHESH - NARESH SPECIAL AWARD - Priti - Pinky
TRANSMEDIA JAIN RATNA AWARD - SHRI NARENDRAKUMAR BALDOTA
TRANSMEDIA SURPRISE AWARD - RAJKUMAR JANI
TRANSMEDIA GUJARATI YUVA SAHITYA PRATIBHA AWARD - Ankit Trivedi
TRANSMEDIA SPECIAL AWARD - YOGESH LAKHANI