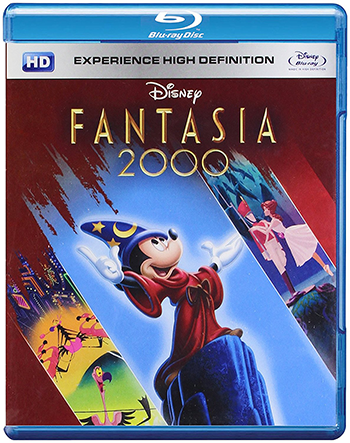 Fantasia 2000 – (Import)
Cast: Bette Midler, Penn Jillette, Angela Lansbury, Wayne Allwine, Russi Taylor
Directors: James Algar, Gaetan Brizzi, Paul Vrizzi, Hendel Butoy, Francis Glebas
The fine arts of Animation and Classical Music - confluences and influences flowing into each other. This is the theme of this Fantastic Fantasy conceived by the renowned classical (i.e. non-CGI) animators of the Disney Studios and the Chicago Symphony Orchestra under the baton of James Levine.
This is not the usual Mickey and Donald variety of stories that we are used to - nor is it the world of the fairy tales. This is about giving flight to one's imagination to take on some of the most celebrated pieces of classical music - going beyond their standard interpretations - and creating a Fantasy not witnessed so far. Yes, Mickey and Donald too feature in them - but they spread their wings beyond the standard caricatures (minus their trademark voices) and join in the celebration of music.
The flights of fancy journey along the historical pathway of Classical Music - beginning with the abstractions of Beethoven's 5th and culminating in Stravinsky's Firebird metamorphosed into a timeless tale of birth, death, and regeneration within the events and cycles of nature - with a bitter-sweet tale of modernity set in the New York of the 1930-40s, played out to the score of Gershwin's Rhapsody in Blue.
This single-disc Blu-Ray - of about an hour and quarter in duration - is simply a glorious testament to the magic and wonder of the world of animation - despite the animations dating back to the early days of Disney Studios. And yes, the renowned magicians Penn and Teller make cameos along with Steve Martin and Angela Lansbury and Itzhak Perlman and others.
Each track is introduced by a legend from the world of Arts and Entertainment - and is accompanied by unexpected visualisations and animations - which are exercises at the pinnacle of creativity in visualisation and animation - each radically different from whatever the original composers had in mind.
For instance: Beethoven's 5th is a visual delight of the abstractions of butterfly-like figures dancing in all their coordinated symphonic glory. The Pines of Rome is a delightful story of the ambitions of flight of Whales from out of the water into the heavens. Rhapsody in Blue is a delightful and humane tale filled with hope of the people of New York.
While each is an audio-visual treat - my personal favourites happen to be Rhapsody in Blue and Pines of Rome.
And it is also a celebration of the audio experiences with the orchestrations transformed from their standard stereo versions into an astounding DTS-Master-HD-7.1 soundtrack - doing equal justice to all the duties of the 7.1 discrete channels.
This is also a fantastic introduction that a non-initiated needs to get immersed into the charming world of Western Classical music - in a most delightful and dazzling and immersive way!
I heartily recommend this Blu-Ray to recreate and experience and celebrate the wonder and magic of the world of the fine arts of animation and music in your life - for all kids aged 8 to 80.
Track Listings:
1) Beethoven's 5th Symphony - 1st Movement.
2) Pines of Rome - Respighi
3) Rhapsody in Blue - Gershwin
4) Piano Concerto 2 - Shostakovich
5) Carnival of the Animals - Saint-Saens
6) Sorcerer's Apprentice - Dukas
8) Pomp & Circumstance - Elgar
9) Firebird Suite - Stravinsky
Ratings *****
Rajendra (Raj) Chittar is based in Bengaluru. He is a retired theoretical Computer Scientist/Software professional. He now luxuriates in his modest but slowly growing collection of Hindustani & Western Classical, Jazz, Classic Rock, Bollywood (pre-1980) music and his books on Mathematics and Physics.
He can be contacted via email rajendra.chittar@gmail.com or on cell +91-8105977500.