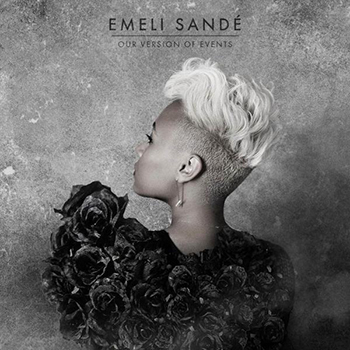 Our Version of Events – Emeli Sande – Virgin Records – Rs. 395/-
Newcomer to the music world is 24 year old Scot singer of black South African decent and a former medical student Emeli Sande. Sande's road to making her first album comes from a string of previous work done with Professor 'Read all about it' Green, and later co-writing material for TV talent shows featuring Leona Lewis to Susan Boyle, prompting Simon Cowell to name-check her as his "favorite songwriter of the moment".
Sande springs on a good collection of 14 songs in this 2012 albun, including a bonus track. Her pop – R &B songs are easily digestible, while her vocals are close to those we have loved like the towering style of Adele and at times soft to that of Duffy. On the opener 'Heaven' she gushes with energy, with heavy instrumentation and towering vocal hooks.
My Kind of Love has styles of Leona Lewis, a good chorus and spine tingling voice that waves through. The horn-laden R&B Next to Me and Daddy are the other highlights here. All songs are written by Sande, so expect some personal statements coming out, like in Daddy one of those heartfelt tracks. Sande brings in a little dance in Next to me. The piano based Clown and River are neat production sets from Sande whose honey toned voice is the high point on this album. There are hints of singer Gabrielle and Corrine Bailey-Rae on the soulful Where I Sleep and Lifetime.
The songbird is all set for the big time and is surely the next big thing to happen to pop music. It's no wonder that 'Our Version of Events' won her critic's choice award at the 2012 Brit Awards. It can be said that 'Our Version of Events' is to Sandé what '19' was to Adele. Lyrics included.
Sadly Sande is not much on the scene now, though she did release her new album 'Long Live The Angels" in 2016.
Rating: ****
Reviewed By Verus Ferreira