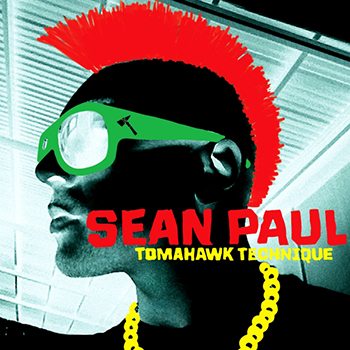 Tomahawk Technique – Sean Paul (Virgin Records) Rs. 395/-
Jamaican dancehall came to the limelight with the coming of Shaggy and his brand of mid tempo girlie melodies. Though no doubt we had Bob Marley prior to all this, Sean Paul seems to have taken a big leap in making Jamaican reggae his forte and well he does succeed……to some extent at least. This album is the long awaited Grammy-winning deejay's fifth album and the follow-up to 2009's Imperial Blaze.
There are 12 tracks, very clubby stuff playing around, with a few slow jams, the best of which has to be the slow-stepping Got 2 Luv U where Paul and Alexis Jordan shout sweet nothings over a Nicki Minaj-sized Stargate production. This is followed by the summery She Doesn't Mind that peaks with its impressive hooks, big chorus and pulsating drums, not to forget mentioning Paul's deep vocals. Moving a few places down where you have How Deep Is Your Love, and no this isn't the Bee Gees cut but a fine midtempo song with Kelly Rowland sounding neat in every respect. Despite a lot of rap and bass lines filling up Hold On, the track manages to swerve around and make it a clubby feel. Towards the end we have Roll Wid di Don that could blast your speakers with the party feel, followed successively with pure dancehall power in the DJ Ammo featured Touch the Sky that has shades of electro, synths and short lines.
Sean Paul is a successfulexport even though his recent live concert in Mumbai didn't find many takers. There are a few filler tracks like that you can give a miss, but you'd rather take a listen first, just in case it kicks you up. Won't Stop (Turn Me Out), Dream Girl and Put It on You' drive the album to a cool three stars. If you want a serious dance – euro pop dancehall album, put this album on your must have list.
Rating: ***
Reviewed By Verus Ferreira